Careers at PC-Doctor:
Collaboration. Creativity. Wellness. Fun.
Since 1993, PC-Doctor, Inc. has provided the industry's best system health software to computer companies.
Recently named 2016 Technology Company of the Year by Nevada's Center for Entrepreneurship and Technology, our culture fosters collaboration, creativity, and wellness–resulting in happy employees with higher-than-average tenure. Here you will work with smart, enthusiastic people in an environment that values both teamwork and independent thinking. Top-notch skills, a positive approach, a strong work ethic, and a sense of fun are essential traits to have on our teams.
Reno is a cool place to live, with a vibrant scene that offers plenty of activities for families, couples, singles, sports fans, history buffs, those who appreciate arts and music, and those who like to play in the great outdoors. Set in the spectacular backdrop of the Sierra Nevada, local activities include winter skiing at Mt. Rose, summer fun at Lake Tahoe, year-round hiking and more.
Start your career. Right here.

Choose your next career.
Automation Engineer, Quality Assurance
Department: Quality Assurance
Location: Reno, NV
Position Type: Full-Time, Exempt
Our automation engineers automate common tasks, interfacing with manual testers to identify opportunities available for automation. Typical responsibilities include writing and documenting functional tests in a variety of languages (such as Java and Python), and educating the team on test functions and results interpretations.
Responsibilities Include:
Develop, maintain and extend functional automated test scenarios, build acceptance, fault injection and fault analysis testing for client/server based products
Collaborate with manual test-focused QA engineers to automate manual test cases
Create tools to assist test environment setup/teardown, test execution, and reporting
Improve/expand test automation framework and existing product test plans
Document and train others on automation processes
Other projects and duties as determined by business needs
REQUIREMENTS: Candidates for consideration must meet all requirements listed in this section. Please ensure that your resume reflects your skills as related to these requirements, as only those candidates will be considered.
Education and Experience:
Computer science (or related) degree and/or professional experience in computer-related quality assurance, software testing, or software development, in any combination as follows:

-BS/BA degree plus at least 3 years of experience, or
-AS/AA degree plus at least 4 years of experience, or
-At least 5 years of experience
Professional experience: To be considered, please ensure your resume reflects knowledge of the following:
-Strong knowledge of at least one programming language (such as Python, C#, Java)
-Test frameworks and tools such as Selenium, TestComplete, Robotium
-QA testing methodologies and practices
-RDBMS, SQL and/or NoSQL databases
-Strong initiative, sense of responsibility, and ability to work independently
-Strong interpersonal and communication skills, and ability to work collaboratively
Preferred knowledge/experience:
-Testing hardware and software diagnostics
-Python, Selenium, TestComplete, mobile test tools and frameworks
-Amazon Web Services, VMware, Redis, MongoDB
When applying with us, just a few things to keep in mind:
-Only resumes submitted directly through our website will be considered.
-Ensure that your resume reflects your knowledge, experience and skills--particularly as they relate to the Requirements, as only those candidates who meet these requirements will be considered. Candidates possessing preferred knowledge and skills will be given preference.
-Please pick just one position for your submission, and submit your resume only once—no multiple submissions for multiple positions, please.
---
PC-Doctor, Inc. is an equal opportunity employer, and is committed to the principles of equal opportunity and diversity. Our policy prohibits employment decisions based on race, religious creed, color, national origin, ancestry, sex, sexual preference, gender identity, gender expression, age, marital status, veteran status, genetic information, mental or physical disability, or any other legally protected membership. All employment decisions will be made on the basis of individual skills, knowledge, abilities, job performance and other appropriate qualifications.
Attention recruitment agencies/search firms: PC-Doctor, Inc. does not accept unsolicited referrals.
Please note that PC-Doctor, Inc. does not currently offer visa sponsorship.
---
To be considered for this position, please Submit Resume.
Position level based on knowledge/experience
Why start a career at PC-Doctor? In addition to our creative, collaborative environment...
We are healthy. PC-Doctor is designated a Fit-Friendly Company by the American Heart Association. We are also recognized as one of Nevada's Healthiest Places to Work. How did we get so healthy? We take the concept of "wellness for fun" seriously here! Activities such as indoor rock climbing, rollerskating, biking, trampolining, and our internal walking program are just a few ways we keep fit while keeping the fun factor. We care about our community, and participate in activities that help others. Our wellness and community activities, combined with daily ping-pong games, a breakroom stocked with healthy, delicious fare, and a supported work/life balance—all add up to one very healthy workplace.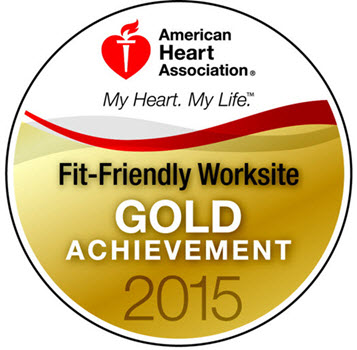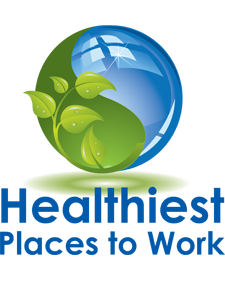 PC-Doctor - Health in the Workplace Award
---
We have fun. We work hard and play hard. The PCD Wellness Team and Makers of Fun (MoFs) are always on the job, delivering enjoyable activities in and out of the office. Below are some of the events: some for wellness, some for community, and all for fun.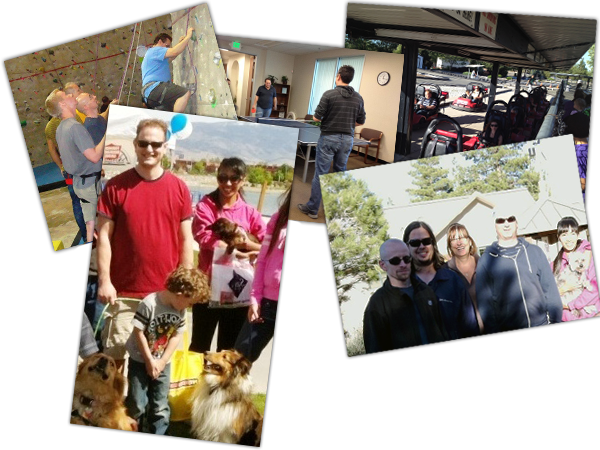 Trail hiking for employees, families, and pets
Trampolining
Go-carts
Skiing and snow boarding
BBQs
Food events
Daily ping pong
Camping
River rafting (floating)
Indoor rock climbing
Laser tag
Corn maze fun
Food drives
Clothing and coat drives
Company gatherings and festivities
Benefits that work for you. We offer an outstanding benefits package here at PC-Doctor. The company pays the majority of basic insurance premiums for each full-time employee. Employees are eligible the first of the month after hire date, and may include dependent coverage. Premiums are deducted on a pre-tax basis.
Health Medical Coverage

Choice of HMO or PPO plans
Dental Insurance

Includes preventive, basic, major and orthodontic coverage.
Vision Care

Benefits include eye examinations, lenses, frames or contact lenses.
Short and Long Term Disability

Replaces part of your income if you become disabled due to sickness or injury.
Additional Benefits Available

401(k) Plan
Flexible Spending Accounts (FSAs)
Relocation Assistance
Professional Development
Welcome to Reno, Nevada!
PC-Doctor is headquartered in Reno, Nevada because it provides an excellent business climate for the company, and it's an ideal place for our employees to live and prosper.
Reno was ranked #10 of the 2014 Top 100 Best Places to Live by Livability.com, a national website that ranks quality of life amenities of America's small and mid-sized cities.
Located at 39.5272° N, 119.8219° W, the climate offers a beautiful 310 sunny days a year, and you can hike, bike, snowboard, and rock climb all in your backyard. Shielded by the nearby Sierra Nevada mountains, Reno receives only 7.5 inches of precipitation each year. Snowfall is generally infrequent and light, yet excellent winter skiing is available only 30 minutes from our offices.
Many companies are recognizing the advantages of doing business here, and Reno is quickly becoming a hub for technology firms due to its strong infrastructure and a favorable tax and business climate. For more information on Reno, visit the city Web site at http://www.cityofreno.com/.
---