Let your voice be heard.
PC-Doctor cares about what our customers, partners, and others think, and we are always searching for ways to better communicate with them. Please join our online community to make your voice heard and learn about PC-Doctor, diagnostics, technical and engineering subjects, and whatever interests you.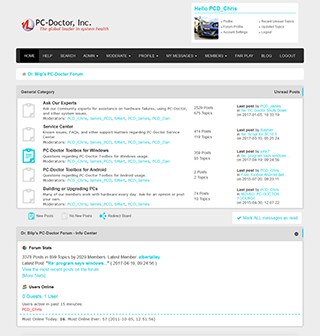 The makings of our community.
Get news and information about new and upcoming products
Fans of our Facebook page periodically receive special discounts, coupons, and promotions
We especially welcome involvement from our customers, and anyone in the diagnostics or PC industries.
Learn about Dr. Blip, PC-Doctor's chief promotions officer — a very unique and animated member of our executive team.
Promote your great ideas and pick up some new ones. This community will be a gathering place for leaders in our industry, and will be a vehicle for improving the PC experience for everyone.
Find out more about the inner workings of PC-Doctor.
Share in the fun we have working at the leading company in our industry.
Our blog feed, direct to you.
PC-Doctor, Inc. has been named the 2016 Technology Company of the Year by Nevada's Center for Entrepreneurship and Technology (NCET). This award is given to the company that best demonstrates a positive effect on Northern Nevada's technology industry. Consideration for the award includes achievement of sales/revenue and employee growth, as well as significant patent, R&D […]

As a thank you to our customers, we'd like to show our appreciation by once again offering the best discounts of the year. The Black Friday Sale is back! Our largest Black Friday through Cyber Monday promotions have returned! PC-Doctor understands the importance of being able to test multiple systems at a time, so we […]

I presume most people want to donate their time and expertise to worthy causes. I do, too. But it's difficult to find blocks of time within a busy and ever-changing schedule, so for years I failed to do much volunteering. Then I discovered Tomnod. Tomnod is a website sponsored by DigitalGlobe to help others by […]
Keeping tabs on our forum conversations.
Ask Our Experts
Hello Paulohsac,I am sorry to hear you are having issues with the Sell Support Assist product. This is a known issue that Dell and ourselves are looking into currently. Once it is resolved I will notify you of the steps to correct your issue.Thanks!

Hello,I have a Dell Inspiron 5448 and I am currently having some difficulty using Dell SupportAssist software. I try to make a diagnosis by the product support site on the dell site and appears error. Always after the search in check supportassist pro...

Hi BleuOisou,We have received your support request and will continue to work with you through it. Thanks,Channing
---
Service Center
Hi Chris,We have received your tech support request and have sent you an email concerning your issue. Thanks!

HiI'm trying to test an All In One system with SC 9.5, booting either from USB or CD. This system has 4GB RAM, but when booting and selecting any of the boot options, I get an error message along the lines of "There is insufficient memory to boot thi...

Channing,thanks! I will update right now.
---
PC-Doctor Toolbox for Windows
Hi Smalpage,I have sent you a PM with how to resolve the issue.Let me know if you have any additional issues.Thanks!

hi thereI recently purchased pc-doctor, order no: PCD160421-2211-21182 on the 22/04/16. I had the program working for a while and then it stopped working. It now says "Your system configuration has changed too many times ... (Error 4)". I assume this ...

Hello dbeale12,We have received your support ticket and you should have received an email with your new download link. Please let us know if you need anything else.Thanks!