Let your voice be heard.
PC-Doctor cares about what our customers, partners, and others think, and we are always searching for ways to better communicate with them. Please join our online community to make your voice heard and learn about PC-Doctor, diagnostics, technical and engineering subjects, and whatever interests you.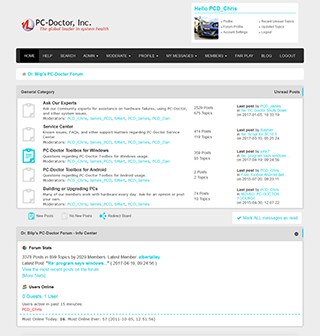 The makings of our community.
Get news and information about new and upcoming products
Fans of our Facebook page periodically receive special discounts, coupons, and promotions
We especially welcome involvement from our customers, and anyone in the diagnostics or PC industries.
Learn about Dr. Blip, PC-Doctor's chief promotions officer — a very unique and animated member of our executive team.
Promote your great ideas and pick up some new ones. This community will be a gathering place for leaders in our industry, and will be a vehicle for improving the PC experience for everyone.
Find out more about the inner workings of PC-Doctor.
Share in the fun we have working at the leading company in our industry.
Our blog feed, direct to you.
Service Center 10.5 continues to ensure technicians have the tools required to accurately troubleshoot the latest systems, devices and components. This latest release includes these notable new features: NVMe device testing Supports Android version 6.0 Marshmallow to test the latest tablets and phones Additional RAID support for MegaRAID and Areca controller models Updated IPMI, CPU, […]

PC-Doctor, Inc. has been named the 2016 Technology Company of the Year by Nevada's Center for Entrepreneurship and Technology (NCET). This award is given to the company that best demonstrates a positive effect on Northern Nevada's technology industry. Consideration for the award includes achievement of sales/revenue and employee growth, as well as significant patent, R&D […]

As a thank you to our customers, we'd like to show our appreciation by once again offering the best discounts of the year. The Black Friday Sale is back! Our largest Black Friday through Cyber Monday promotions have returned! PC-Doctor understands the importance of being able to test multiple systems at a time, so we […]
Keeping tabs on our forum conversations.
Ask Our Experts
Are you positive this is nothing for Toolbox but vista operation system ? How is the windows 10 pro here also ? => next That have to tell you Another windows 10 pro upgraded to from win 7, it working all look well for every feature for the toolbox ne...

Hello James. I have several concerns that have occurred, since PCdoctors Tool Box went from 6. to newest 7. What I wish to do at this time is un-install PCdoc tool box, and go from there. I cannot find uninst.exe in the PCdTB programs folder. Windo...

BleuOisou,I believe that Randy is reporting an issue with the Windows update tile in toolbox not completing loading. Unfortunately yours is an unrelated issue that your system is unable to check for windows updates.-James
---
Service Center
This topic has been moved to PC-Doctor Toolbox for Windows.http://www.pcdoctor-community.com/forum/index.php?topic=1198.0

Hi Cygnata,Unfortunately we can't swap out a key that old. However, as a Staples employee you use our Factory product which is our most advanced diagnostic. Is this not the case is your store? If not please PM me the store location and we can notify o...

I am a staples EasyTech. This poor drive has been through the ringer by my coworkers. It is literally falling apart, and now no longer will recognize unless positioned juuuuuust right in the port, and even then if you breathe wrong it loses connection....
---
PC-Doctor Toolbox for Windows
Glad to hear!

Glad to hear you got it all worked out!

Hi James,Got it solved. PC Doctor showed the printer as disabled. When I enabled it through PC Doctor, I was able to uninstall it in Device Manager.Thanks for pointing me in the right direction