Let your voice be heard.
PC-Doctor cares about what our customers, partners, and others think, and we are always searching for ways to better communicate with them. Please join our online community to make your voice heard and learn about PC-Doctor, diagnostics, technical and engineering subjects, and whatever interests you.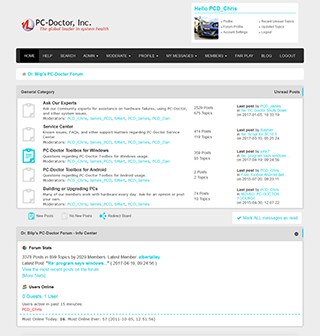 The makings of our community.
Get news and information about new and upcoming products
Fans of our Facebook page periodically receive special discounts, coupons, and promotions
We especially welcome involvement from our customers, and anyone in the diagnostics or PC industries.
Learn about Dr. Blip, PC-Doctor's chief promotions officer — a very unique and animated member of our executive team.
Promote your great ideas and pick up some new ones. This community will be a gathering place for leaders in our industry, and will be a vehicle for improving the PC experience for everyone.
Find out more about the inner workings of PC-Doctor.
Our blog feed, direct to you.
24 May 2019
This is Service Center 12

Advancing the World's Number One Hardware Diagnostic Toolkit Service Center 12 continues to advance as the world's number one hardware diagnostic toolkit—with all new Certified NIST-Compliant Drive Erase, plus cloud-stored drive erasure reports. This latest release also includes these notable new features and more: DirectX 12 Shader Rendering test Android version 8.x Oreo and 9.x […]

20% Off Everything Black Friday Sale!

Test PCs. Test Macs. Test Android devices. Test remotely. Test more with these huge Black Friday savings! PC-Doctor is once again offering the best discounts of the year — 20% off everything!!! Service Center Deals Sale active 11/23/2018 through 11/26/2018 The world's #1 PC, Android and Mac hardware diagnostic toolkit. Used by repair technicians, service […]

Celebrate 25 Years with PC-Doctor!

PC-Doctor turned 25 this year! What an accomplishment. We could not have done it without the support of our most precious asset…you, our customers! Help us celebrate this monumental year and enjoy some of the greatest savings we've ever offered. Now through September 18th save 25% on everything! Yes, you read that correctly! You can […]
Keeping tabs on our forum conversations.
Ask Our Experts
24 May 2019
Re: Activation on 2 pc

Hello,

Are you getting an error 4 message because of your three activations? I've sent you a separate message to get further information for your original product key.

Thanks,

Meliton P.

Re: Activation on 2 pc

I installed PC-Doctor toolbox on 2 pc. Bought 2 licenses but used initially one and the same productcode. Now I get the message that I installed to many times. How do I enter th...

Re: Best Product for Non-bootable PC's

Hello,

Thanks for posting on our forums.

Based on the brief information you provided, I'd recommend using our Service Center product. More information about Service Center can be found here:

http://www.pcdservicecenter.com

.

The reason this product wou...
---
Service Center
---
PC-Doctor Toolbox for Windows