Let your voice be heard.
PC-Doctor cares about what our customers, partners, and others think, and we are always searching for ways to better communicate with them. Please join our online community to make your voice heard and learn about PC-Doctor, diagnostics, technical and engineering subjects, and whatever interests you.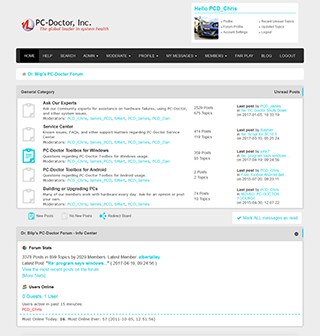 The makings of our community.
Get news and information about new and upcoming products
Fans of our Facebook page periodically receive special discounts, coupons, and promotions
We especially welcome involvement from our customers, and anyone in the diagnostics or PC industries.
Learn about Dr. Blip, PC-Doctor's chief promotions officer — a very unique and animated member of our executive team.
Promote your great ideas and pick up some new ones. This community will be a gathering place for leaders in our industry, and will be a vehicle for improving the PC experience for everyone.
Find out more about the inner workings of PC-Doctor.
Share in the fun we have working at the leading company in our industry.
Our blog feed, direct to you.
Three things are clear: Technology changes quickly, technicians need tools to troubleshoot the latest systems, and PC-Doctor is ready to meet those needs. Our newest release of Service Center supports Windows 10 all the way back to XP, as well as Android 5.1.1 and earlier. This major update provides support for newer technologies such as […]

Windows 10 is here, and we are ready! Our engineers have been hard at work on our newest version of PC-Doctor Toolbox for Windows—now fully compatible with Windows 10. We are celebrating by offering 20% off your next Toolbox purchase now through the end of August, so it's a great time to protect every system […]

You are one touch away from tools that will keep your Android device running smoothly! Monitoring your Android mobile phones and tablets has never been easier with the all new Toolbox Android app. Download the free beta app from the Google Play Store! Top Hardware Diagnostics & Device Information We reviewed analyses, case studies, and […]
Keeping tabs on our forum conversations.
Ask Our Experts
Have updated the post: Reply #6 on: 26-09-2015, 06:18:04 » please review it for understanding what trying to tell you. BleuOisou

Hi Rana,I have sent you an email on the support case you opened regarding this but will post the answer here as well, to ensure your question gets addressed. You can run the diagnostics from the DVD, however the Multipurpose USB device will need to be...

I am using Service Center 10 and I am having trouble running diagnostics from DVD. I am getting message "To run service center, you must first insert the multipurpose USB into an available USB port". So my question is that can i run diagnostics from D...
---
Service Center
Hi,I have sent you information on reinstalling Toolbox to your email address associated with the order. Please let me know if you do not receive it or have any questions.Thanks!

hello I recently reformatted hd and I cannot reinstall from purchase email link ,can you please help my order no PCD150908-3141-79183 kind regards

Supports Windows 10 and Android 5.1.1!Plus, expanded Windows memory and CPU testing.Learn al...
---
PC-Doctor Toolbox for Windows
Hello BluueSpruce,I'm sorry to hear you are having issues with Toolbox! Since you did mention you are running Windows 10 might I ask if you are running the latest version of Toolbox which is 6.3? Our older versions of toolbox will run in Win10 but the...

When I open PC-Doctor Toolbox for Windows and click on Hardware I find entries that indicate that I have two disabled devices (printers) on my system. However, both printers function perfectly. I also opened Windows device manager and found no disabled...

I have reset your download link and resent the product email as well as sent you the link in a personal message on the forum. Please let me know if you have any other questions!Thanks!Sam