Let your voice be heard.
PC-Doctor cares about what our customers, partners, and others think, and we are always searching for ways to better communicate with them. Please join our online community to make your voice heard and learn about PC-Doctor, diagnostics, technical and engineering subjects, and whatever interests you.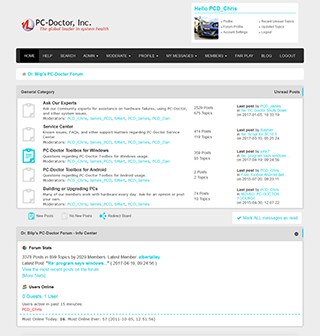 The makings of our community.
Get news and information about new and upcoming products
Fans of our Facebook page periodically receive special discounts, coupons, and promotions
We especially welcome involvement from our customers, and anyone in the diagnostics or PC industries.
Learn about Dr. Blip, PC-Doctor's chief promotions officer — a very unique and animated member of our executive team.
Promote your great ideas and pick up some new ones. This community will be a gathering place for leaders in our industry, and will be a vehicle for improving the PC experience for everyone.
Find out more about the inner workings of PC-Doctor.
Share in the fun we have working at the leading company in our industry.
Our blog feed, direct to you.
This time of year is about being thankful, and we want to show our appreciation for our customers by offering the best discounts of the year! We are having our largest Black Friday through Cyber Monday promotions ever! PC-Doctor understands the importance of being able to test multiple systems at a time, so we are […]

When Google started previewing Glass, I didn't make the A-list, i.e. those who got their Glass free, nor the B-list who got offered Glasses for an arm and a leg. But at least I was able to join the ranks of the Glass-wearing public when Tax Day also acted as the Glass Purchase Day, although […]

For better or (more likely) worse, healthcare.gov is the most visible aspect of what seems to have become the white elephant of the 21st century, officially named the Patient Protection and Affordable Care Act, also known as PPACA, Obamacare and ACA. It certainly didn't help that healthcare.gov had massive performance issues from the very beginning. […]
Keeping tabs on our forum conversations.
Ask Our Experts
PC-doctor toolbox not off alert the update block. There tried the online backup , external hdd and the pc.drv ? Shall wait for the toolbox auto fixed it or get a new license?The mouse and keyboard would not hit able when run the diagnose , at McAfee...

I'm glad to hear that you were able to figure it out, and sorry again that I couldn't provide a more immediate solution.As for the 3.3V registering 3.9V instead; it is higher than expected, and it is difficult to say what issues it could create (but n...

Sorted!It was the clearCMOS jumper. The jumper cap has to be placed on pins 1 & 2 & voila it boots.http://i1129.photobucket.com/albums/m502/w...
---
Service Center
I have passed along your request, and I will let you know as soon as I hear anything back. Thank you for your feedback, and please let us know if you have any other improvements or changes you would like to see.Kris

We use the DETAILED VIEW report to pull all the specification from the system. I then use Excel to automatically search the DETAILED VIEW report and pull out the information I need. This works great but there are two pieces of information that are alw...

Thanks, Problem resolved. I had the chance to play with the new PCI card and Remote View and works fine. Could be either the cable or the Remote View card that is bad.
---
PC-Doctor Toolbox for Windows
Yup , just went ahead and crashed my system to confirm that the Blue Screen Troubleshooter is found within the Performance tab. However, if your system history doesn't have a record of any recent BSOD's, then it won't be visible.I hope this helps, a...

Hi Pandur,I will check later today or early tomorrow (just to be 100% sure), but it should be made available within the Performance tab if Windows reports a recent BSOD (Blue Screen of Death). I hope this helps, and I will get back to you with a confi...

Hi,I installed PC Toolbox - but where can I find the bluescreen Troubleshooter (announced as a new Feature)? This was the reason why I bought the product...Regards,Stephan