Let your voice be heard.
PC-Doctor cares about what our customers, partners, and others think, and we are always searching for ways to better communicate with them. Please join our online community to make your voice heard and learn about PC-Doctor, diagnostics, technical and engineering subjects, and whatever interests you.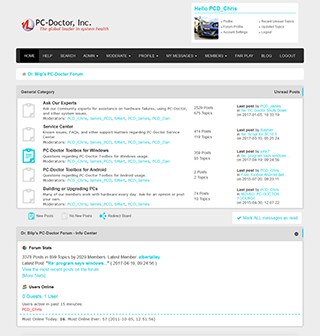 The makings of our community.
Get news and information about new and upcoming products
Fans of our Facebook page periodically receive special discounts, coupons, and promotions
We especially welcome involvement from our customers, and anyone in the diagnostics or PC industries.
Learn about Dr. Blip, PC-Doctor's chief promotions officer — a very unique and animated member of our executive team.
Promote your great ideas and pick up some new ones. This community will be a gathering place for leaders in our industry, and will be a vehicle for improving the PC experience for everyone.
Find out more about the inner workings of PC-Doctor.
Share in the fun we have working at the leading company in our industry.
Our blog feed, direct to you.
Windows 10 is here, and we are ready! Our engineers have been hard at work on our newest version of PC-Doctor Toolbox for Windows—now fully compatible with Windows 10. We are celebrating by offering 20% off your next Toolbox purchase now through the end of August, so it's a great time to protect every system […]

You are one touch away from tools that will keep your Android device running smoothly! Monitoring your Android mobile phones and tablets has never been easier with the all new Toolbox Android app. Download the free beta app from the Google Play Store! Top Hardware Diagnostics & Device Information We reviewed analyses, case studies, and […]

The repair industry is constantly changing, and technicians need the right support tools to stay up to date. PC-Doctor Service Center 9.5 now supports Macs and Android devices, allowing technicians to provide support to multiple platforms and test the latest system components with one program. This article highlights some of the new features available in […]
Keeping tabs on our forum conversations.
Ask Our Experts
Hello Harish,For the USB status test, if any usb devices are present but not enabled the test will log as Cannot Run. Could you provide some more information on your specific setup? Any further information will help me better assist you.Thanks!-Sam

USB Status Test Cannot Run

Hi Michael,I'm glad to hear that the solution worked for you! In regards to your follow up questions please see the answers below:1) This test verifies the tested network card can successfully establish a connection to the Internet. This test stars b...
---
Service Center
Hi Xander,By "offline" I'm assuming you mean Bootable Diagnostics (BD), so please let me know if I am mistaken.The automated option in BD is set to run off the automated.xml script (located in <USB>:\pcdoctor\sc_lin\scripts) and will automatically na...

I'm kicking myself because I've just found this information in the Quick Start guide.It's good to know ahead of time as my goal is to work out my tests to be interaction-less, just start-and-walk-away. With the Windows tests, I've batch-filed them to...

The primary use for the female connector on the network loopback is to test communication along a length of cable (like through a network port in the wall to the switch/router). Otherwise, it does make a great cable holder.... If you don't see the ...
---
PC-Doctor Toolbox for Windows
I've resent a message to your inbox apparently the other one wasn't sent? Hopefully this one makes it -Sam

thanks,it empty though ??

Hi. I've just updated to Windows 10. I have version: 6.3.6554.59. Product works well except for FULL TEST DIAGNOSTICS, it freezes after the video test at 36%. Windows closes the product for not responding and looks for solution. This ...