Let your voice be heard.
PC-Doctor cares about what our customers, partners, and others think, and we are always searching for ways to better communicate with them. Please join our online community to make your voice heard and learn about PC-Doctor, diagnostics, technical and engineering subjects, and whatever interests you.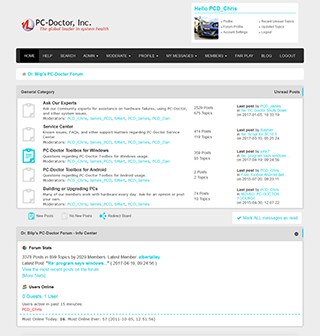 The makings of our community.
Get news and information about new and upcoming products
Fans of our Facebook page periodically receive special discounts, coupons, and promotions
We especially welcome involvement from our customers, and anyone in the diagnostics or PC industries.
Learn about Dr. Blip, PC-Doctor's chief promotions officer — a very unique and animated member of our executive team.
Promote your great ideas and pick up some new ones. This community will be a gathering place for leaders in our industry, and will be a vehicle for improving the PC experience for everyone.
Find out more about the inner workings of PC-Doctor.
Share in the fun we have working at the leading company in our industry.
Our blog feed, direct to you.
This time of year is about being thankful, and we want to show our appreciation for our customers by offering the best discounts of the year! We are having our largest Black Friday through Cyber Monday promotions ever! PC-Doctor understands the importance of being able to test multiple systems at a time, so we are […]

When Google started previewing Glass, I didn't make the A-list, i.e. those who got their Glass free, nor the B-list who got offered Glasses for an arm and a leg. But at least I was able to join the ranks of the Glass-wearing public when Tax Day also acted as the Glass Purchase Day, although […]

For better or (more likely) worse, healthcare.gov is the most visible aspect of what seems to have become the white elephant of the 21st century, officially named the Patient Protection and Affordable Care Act, also known as PPACA, Obamacare and ACA. It certainly didn't help that healthcare.gov had massive performance issues from the very beginning. […]
Keeping tabs on our forum conversations.
Ask Our Experts
I have requested confirmation from the developers, but I don't believe that our software is able to identify corrupted data (in this case the partition info). However if the corruption is caused by the drive beginning to fail, that will be discovered b...

Does PC-Doctor check the integrity of disc partition headers when performing a scan? I keep getting a warning message from my backup software that the alternate header of a GPT partition is damaged. However, including PC-Doctor, no utility I have trie...

Hi jr8125,I am sorry for any confusion, but our software is not designed to detect or fix issues related to virus or malware. Our software is designed for the purpose of hardware diagnostics, it's purpose is to find and notify you of any hardware rela...
---
Service Center
Take advantage of our End of Year Holiday Sale and save 20% off the entir...

Please submit a support ticket using our Service Center support form (http://www.pcdservicecenter.com/support.php). It sounds like you may also require an RMA.Please let me know if you have any questions. Thanks,Kris

Having same issue. I have 6 of these USB keys and only 1 will not detect or run. The lights flash light activity but it is not recognized on any system. It shows up but it is empty and will not activate the PC Doctor Program but the rest of them do.
---
PC-Doctor Toolbox for Windows
Take advantage of our End of Year Holiday Sale and save 30% off all orders, including tiered pricing specials!Use coupon code ...

Please send me a PM with your name, email, or order number, and I will get you upgraded.Thanks,Kris

I'm also on 6.0.6078.134 and would like to know how to update. Many thanks.