Let your voice be heard.
PC-Doctor cares about what our customers, partners, and others think, and we are always searching for ways to better communicate with them. Please join our online community to make your voice heard and learn about PC-Doctor, diagnostics, technical and engineering subjects, and whatever interests you.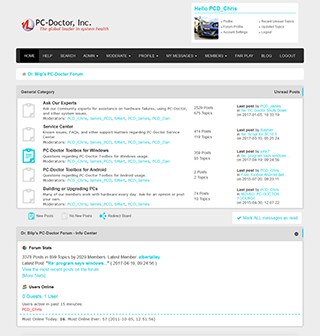 The makings of our community.
Get news and information about new and upcoming products
Fans of our Facebook page periodically receive special discounts, coupons, and promotions
We especially welcome involvement from our customers, and anyone in the diagnostics or PC industries.
Learn about Dr. Blip, PC-Doctor's chief promotions officer — a very unique and animated member of our executive team.
Promote your great ideas and pick up some new ones. This community will be a gathering place for leaders in our industry, and will be a vehicle for improving the PC experience for everyone.
Find out more about the inner workings of PC-Doctor.
Our blog feed, direct to you.
The Inevitable Failure of Cryptocurrency (aka Long Live Cryptocommodity)

What a ride for cryptocurrencies like Bitcoin, Litecoin, Ethereum and Ripple. 100% rises over a few days. Flash crashes. Presumed theoretical billionaires. Publicity. And most of all, acceptance. What could go wrong? I have been observing the rise and rise of cryptocurrenies like Bitcoin for years. I've talked to people who believe Bitcoin will go to $50,000 and […]

30% Off Everything Black Friday Sale!

Test PCs. Test Macs. Test Android devices. Test remotely. Test more with these huge Black Friday savings! PC-Doctor is once again offering the best discounts of the year — 30% off everything!!! Service Center Deals Sale active 11/24/2017 through 11/27/2017 The world's #1 PC, Android and Mac hardware diagnostic toolkit. Used by repair technicians, service […]

Introducing Service Center 11 and the all new Service Center Remote!

Out of the Shop and into the Cloud with Service Center Remote Available as a stand-alone service or used in conjunction with the Service Center 11 kit, Service Center Remote allows you to easily run secure remote hardware diagnostics and manage test reports from anywhere in the world, while providing seamless sharing of testing among […]
Keeping tabs on our forum conversations.
Ask Our Experts
Re: Motherboard , OEM, warantee , sfc /scannow

continued post of June 18th 2018



OEM Lenovo vista A58 DUID of dhcpv6 mac news:

This vista has had windows7 A85 model machine own Lenovo also mac.ethernet within this A58 for since 2014 by record least?


Its built in mac ethernet board , this visat L...

Re: Motherboard , OEM, warantee , sfc /scannow

Hello,

One Serial Number machine can have two mac meanwhile to be Identified on the DUID global networking ?

Yes, a MAC address is specific to your NIC (Network Interface Card), so a single PC can have multiple MAC addresses.

From wh...

Re: Motherboard , OEM, warantee , sfc /scannow

OEM Lenovo A58 DUID of dhcpv6 mac news:

It has had A85 model machine own mac.ethernet within A58 for since 2014


Its built in mac.ethernet under DHCPv6 is lost, but forced it modified from regedit, would cause the networking alternatively cut and connec...
---
Service Center
Re: How do you use Service Center 10.5 Android Diagnostic

Service Center 10.5 upgraded version having , has the short feature to detect the ethernet to be merged or duplicated ?


OEM lenovo A85 own ethernet.mac found being merged as A58 model machine DUID under dhcpv6, and the A58 itself mac of ethernet once c...

Re: DDR4 Failures

Without knowing the history of the situation that led you to run tests on the RAM in the first place... You need to take into account, the faulty memory addresses and the Linux kernel virtual memory map. There are many great resources out there that ca...

DDR4 Failures

So I have failures across a single SODIMM DDR4 16gb chip. The general system test popped an advanced pattern test failure and the extended ram test had several failures:

Pattern
Bit High
Nibble Move
Checkerboard[/l...
---
PC-Doctor Toolbox for Windows
Re: Sound Interactive Test.

Hi Jeppe,

At this time the Sound Interactive Test must be used with the provided audio clips.

Kind Regards,
Dan R.

Sound Interactive Test.

Hello,

Is it possible to change the "Sound track" that plays when you run the Sound Interactive test?

Best regards.

Re: Keyboard Interactive Test.

Thank you.

A feature i would like to see if this becomes a thing, is the keys changing color after having been pressed once, so its easy to see if a key needs to be pressed again.


Best regards.