Let your voice be heard.
PC-Doctor cares about what our customers, partners, and others think, and we are always searching for ways to better communicate with them. Please join our online community to make your voice heard and learn about PC-Doctor, diagnostics, technical and engineering subjects, and whatever interests you.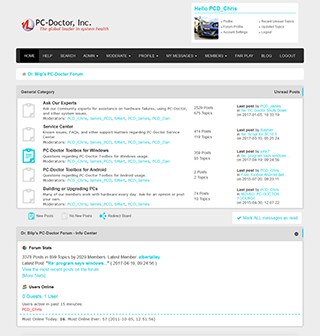 The makings of our community.
Get news and information about new and upcoming products
Fans of our Facebook page periodically receive special discounts, coupons, and promotions
We especially welcome involvement from our customers, and anyone in the diagnostics or PC industries.
Learn about Dr. Blip, PC-Doctor's chief promotions officer — a very unique and animated member of our executive team.
Promote your great ideas and pick up some new ones. This community will be a gathering place for leaders in our industry, and will be a vehicle for improving the PC experience for everyone.
Find out more about the inner workings of PC-Doctor.
Our blog feed, direct to you.
The 2016 Black Friday Sale!

As a thank you to our customers, we'd like to show our appreciation by once again offering the best discounts of the year. The Black Friday Sale is back! Our largest Black Friday through Cyber Monday promotions have returned! PC-Doctor understands the importance of being able to test multiple systems at a time, so we […]

Service Center 10.5 now Available!

Service Center 10.5 continues to ensure technicians have the tools required to accurately troubleshoot the latest systems, devices and components. This latest release includes these notable new features: NVMe device testing Supports Android version 6.0 Marshmallow to test the latest tablets and phones Additional RAID support for MegaRAID and Areca controller models Updated IPMI, CPU, […]

PC-Doctor Named 2016 Technology Company of the Year by NCET

PC-Doctor, Inc. has been named the 2016 Technology Company of the Year by Nevada's Center for Entrepreneurship and Technology (NCET). This award is given to the company that best demonstrates a positive effect on Northern Nevada's technology industry. Consideration for the award includes achievement of sales/revenue and employee growth, as well as significant patent, R&D […]
Keeping tabs on our forum conversations.
Ask Our Experts
Re: PC Doctor Shuts Down

I am sorry to here you are having trouble with running a scan. If you file a support request at

www.pc-doctor.com/support

we would be happy to take a look and see what we can do to help.

Re: PC Doctor Shuts Down

I just installed PC Doctor. When I hit the scan button it shuts the software down. Did I get a bad copy of PC Doctor? This computor is Windows 7.


Have exactly the same prob...

Re: PC Doctor Shuts Down

Hello,

That hopefully shouldn't be the case, as all of our install files are just a duplicate, however you can always try a reinstall to see if the installation was corrupted in any way. If that doesn't seem to rectify the issue I would verify all of y...
---
Service Center
Re: Script for SC10.5

Yes the appendix is a life saver, I have been using to make a little headway.
Thank you for the logic flow, it is helpful as I am a little new a scripting.

As for the bootable, I figured I would have to do something like like. I am hoping to avoid it f...

Re: Script for SC10.5

There is info on pages 37-38 of the user guide on command line usage. Using this I was quickly able to write a batch file to automate the process and accomplish your objective with the following logic flow:

1.Find Drive Letter assigned to Service Ce...

Re: Script for SC10.5

I am currently trying to do it through bootable, as I have a couple of keys and I would like be able to test multiple machines without having to install the OS on them.

If am not able to, I am sure I could figure something out using windows.

Thank you...
---
PC-Doctor Toolbox for Windows
Re: RESET SERIAL NUMBER

Hello,

I'm sorry you are having troubles activating your software.

If you could please submit a support ticket on our website I would be more than happy to assist with your issue.

Please go to

http://www.pc-doctor.com/support/

Once there, submit a new...

RESET SERIAL NUMBER

Hey i am having trouble activating software on pc

My email is ******
thanks



Re: Did not received activation email

mricaro,

I have updated your order to the e-mail address you provided & resent the confirmation.

Please let me know if you have any further issues.

-Dan R.