Let your voice be heard.
PC-Doctor cares about what our customers, partners, and others think, and we are always searching for ways to better communicate with them. Please join our online community to make your voice heard and learn about PC-Doctor, diagnostics, technical and engineering subjects, and whatever interests you.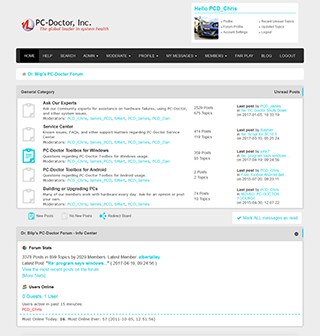 The makings of our community.
Get news and information about new and upcoming products
Fans of our Facebook page periodically receive special discounts, coupons, and promotions
We especially welcome involvement from our customers, and anyone in the diagnostics or PC industries.
Learn about Dr. Blip, PC-Doctor's chief promotions officer — a very unique and animated member of our executive team.
Promote your great ideas and pick up some new ones. This community will be a gathering place for leaders in our industry, and will be a vehicle for improving the PC experience for everyone.
Find out more about the inner workings of PC-Doctor.
Share in the fun we have working at the leading company in our industry.
Our blog feed, direct to you.
When Google started previewing Glass, I didn't make the A-list, i.e. those who got their Glass free, nor the B-list who got offered Glasses for an arm and a leg. But at least I was able to join the ranks of the Glass-wearing public when Tax Day also acted as the Glass Purchase Day, although the prices were still at the arm and a leg level. I really wanted to like Glass. I installed apps. I customized it with various cool stuff available for it. I tried to integrate it with my daily tasks. I wrote an app for it. And I continued to use it even after I reluctantly concluded that the device felt like the Apple Newton of a promising new space in personal computing devices. Continue reading...

For better or (more likely) worse, healthcare.gov is the most visible aspect of what seems to have become the white elephant of the 21st century, officially named the Patient Protection and Affordable Care Act, also known as PPACA, Obamacare and ACA. It certainly didn't help that healthcare.gov had massive performance issues from the very beginning. And while performance has improved over time, things still aren't really looking up, as "conversion" rates are very poor, actual payment for policies is not yet implemented, and there are significant concerns about the potential for (and some claimed actual) security failures in the site itself. But given that this is a software project, and that we're a software company that has made mistakes just like everyone else, what learning experiences can we draw from it? Continue reading...

Let's face it. Windows 8 and its refresh 8.1 have failed to reinvigorate the PC space. Not only are few users moving away from other touch-based platforms, but Microsoft has also alienated a large number of existing Windows users by making the OS less friendly to those who like their mouse and keyboard as the primary human-to-computer interfaces. Here are a few thing Microsoft could do to fix Windows 8. Continue reading...
Keeping tabs on our forum conversations.
Ask Our Experts
When I run the Motherboard test after a cold boot the 28th test- PCI Express Status Test fails with the error WPE01-J9E. I don't get this error when I do a warm boot. I Have two Asus GTX 590 graphics cards in an SLI setup installed in an ASRock X79 E...

Thanks pkohn11 for providing that additional info.We are currently in the process of procuring one of these devices so that we can do further investigation internally, and I wouldn't be surprised if we don't implement a resolution in a future version ...

Thank you for the reply! Sorry it took me so long to get back to you. Here is the report ran again and the hard drive information.What seems weird to me is that it is showing one of the drives (Hitachi which is weird) but it doesn't show the second o...
---
Service Center
Hi staplesguy,I have already responded to the support ticket you had submitted, but I felt I should leave a response here as well.The first thing I would suggest is that you should attempt to restore the Multipurpose USB Device. If any of the files h...

Trying to run it on cust's computer and I keep getting "error accessing E:\PCDR\PCDR.STR, Message 698" have had no luck on google can't find any answeres.. it won't run any tests mobo, ram, HDD etc.Edit: forgot to put more info, oops.. It's a Toshiba ...

Thank you for the update, and I would greatly appreciate it if you can let me know the next time you run into issues like this without ESET installed. We do our best to avoid software or hardware interactions like these, but it is difficult to account ...
---
PC-Doctor Toolbox for Windows
Found it! Thanks

Your all set, I have sent you a PM with your updated download link.

I have PC-Doctor Toolbox for Windows, version 6.0.6078.134 I believe there are software updates available, but I could not find a link on the website. How do I obtain an update?