Let your voice be heard.
PC-Doctor cares about what our customers, partners, and others think, and we are always searching for ways to better communicate with them. Please join our online community to make your voice heard and learn about PC-Doctor, diagnostics, technical and engineering subjects, and whatever interests you.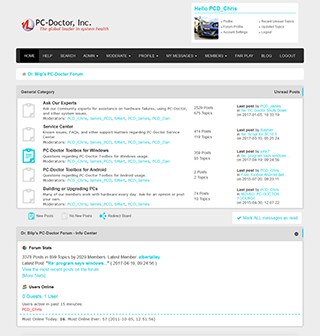 The makings of our community.
Get news and information about new and upcoming products
Fans of our Facebook page periodically receive special discounts, coupons, and promotions
We especially welcome involvement from our customers, and anyone in the diagnostics or PC industries.
Learn about Dr. Blip, PC-Doctor's chief promotions officer — a very unique and animated member of our executive team.
Promote your great ideas and pick up some new ones. This community will be a gathering place for leaders in our industry, and will be a vehicle for improving the PC experience for everyone.
Find out more about the inner workings of PC-Doctor.
Our blog feed, direct to you.
Introducing Service Center 11 and the all new Service Center Remote!

Out of the Shop and into the Cloud with Service Center Remote Available as a stand-alone service or used in conjunction with the Service Center 11 kit, Service Center Remote allows you to easily run secure remote hardware diagnostics and manage test reports from anywhere in the world, while providing seamless sharing of testing among […]

The 2016 Black Friday Sale!

As a thank you to our customers, we'd like to show our appreciation by once again offering the best discounts of the year. The Black Friday Sale is back! Our largest Black Friday through Cyber Monday promotions have returned! PC-Doctor understands the importance of being able to test multiple systems at a time, so we […]

Service Center 10.5 now Available!

Service Center 10.5 continues to ensure technicians have the tools required to accurately troubleshoot the latest systems, devices and components. This latest release includes these notable new features: NVMe device testing Supports Android version 6.0 Marshmallow to test the latest tablets and phones Additional RAID support for MegaRAID and Areca controller models Updated IPMI, CPU, […]
Keeping tabs on our forum conversations.
Ask Our Experts
Re: Windows 10 Blue Screen

Thank you very much for your help and information.
I downloaded the latest driver and completely removed/uninstalled the nVidia driver. I even removed the files it left behind on the hard drive by doing a search. I installed the new driver and reboote...

Re: Windows 10 Blue Screen

Hello,

From what you have provided it does appear to be driver related. After checking the provided information, the machine appears to be fully up to date. Despite this, the best approach would be reinstalling the GPU driver here:

https://www.evga.com

...

Re: Windows 10 Blue Screen

Anyone?
---
Service Center
Re: Upgrade Policy

Hey Thomas,

Sorry for the delay, I had to ask around since we don't receive requests like this often. After looking through our policies there is nothing in writing that would restrict you from being able to upgrade.

After speaking with my team it does...

Upgrade Policy

I was just curious as to policy on upgrades.

If I'm still running 7.9 can I get an upgrade to 8.0?

Re: SC 10.5 Not seeing M.2 or NVMe M.2 on Dell Precision 5520

Hello,

I was able to verify that those steps do work for producing debug logs.

Did you ensure that the file was renamed to "scui.sh"?

-Dan R.
---
PC-Doctor Toolbox for Windows
Re: Bad_pool_header Windows 10

I had this same problem. My PC system had PC Doctor as an EOM install with Windows 7, but when I upgraded to Windows 10, it was removed. Later, I think I did a clean install of Windows 10, so there were no remnants of the previous install. I downloa...

Re: Install Link PC Format

Hello,

I apologize for the delay. We were on holiday weekend. I will promptly respond to your support ticket.

Thanks,
Dan R.

Re: Install Link PC Format

PS: I'm already opened a ticket in 2107-05-26

Thank you and I'm waiting.