Let your voice be heard.
PC-Doctor cares about what our customers, partners, and others think, and we are always searching for ways to better communicate with them. Please join our online community to make your voice heard and learn about PC-Doctor, diagnostics, technical and engineering subjects, and whatever interests you.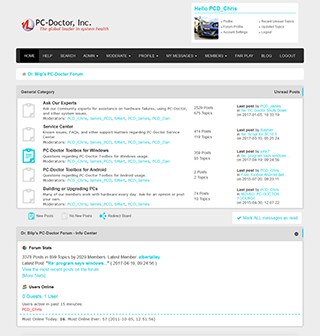 The makings of our community.
Get news and information about new and upcoming products
Fans of our Facebook page periodically receive special discounts, coupons, and promotions
We especially welcome involvement from our customers, and anyone in the diagnostics or PC industries.
Learn about Dr. Blip, PC-Doctor's chief promotions officer — a very unique and animated member of our executive team.
Promote your great ideas and pick up some new ones. This community will be a gathering place for leaders in our industry, and will be a vehicle for improving the PC experience for everyone.
Find out more about the inner workings of PC-Doctor.
Share in the fun we have working at the leading company in our industry.
Our blog feed, direct to you.
As a thank you to our customers, we'd like to show our appreciation by once again offering the best discounts of the year. The Black Friday Sale is back! Our largest Black Friday through Cyber Monday promotions have returned! PC-Doctor understands the importance of being able to test multiple systems at a time, so we […]

I presume most people want to donate their time and expertise to worthy causes. I do, too. But it's difficult to find blocks of time within a busy and ever-changing schedule, so for years I failed to do much volunteering. Then I discovered Tomnod. Tomnod is a website sponsored by DigitalGlobe to help others by […]

Three things are clear: Technology changes quickly, technicians need tools to troubleshoot the latest systems, and PC-Doctor is ready to meet those needs. Our newest release of Service Center supports Windows 10 all the way back to XP, as well as Android 5.1.1 and earlier. This major update provides support for newer technologies such as […]
Keeping tabs on our forum conversations.
Ask Our Experts
Hi droberson,We do offer a product that is capable of running diagnostics on machines remotely and providing the results to a central console where you can view and monitor the results of the diagnostic tests. This product is called Network Factory. I...

Is there another product that will do that? Is there a log file I could monitor. I do not set at the computer all the time, other users do. But I need to be aware if an issue happens.

Hello droberson,Unfortunately there is not a way for Toolbox to send you an email alert if an issue is found. The main reason for this is that the UI will alert you on the PC in question if any issue is found. So in the event an issue is found, you wi...
---
Service Center
Hi Stavros555,I have responded to you via the support ticket you submitted regarding this issue. Once we reach a conclusion through the ticket, I will repost it here.Thanks,Channing

I just purchased PC-Doctor Toolbox and have run it on a brand new laptop with fresh Windows 10 and drivers install. The computer is running well in all stress tests with no issue.During the Diagnostics test, when testing the Motherboard suite, there i...

From all of us to you, Happy Holidays!PC-Doctor is closed Dec. 21 - Dec. 25, 2015. Support requests and orders placed during thi...
---
PC-Doctor Toolbox for Windows
Hi Sanford,Thank you for the additional information. Have you, by chance, uninstalled Toolbox and reinstalled Toolbox since this started happening? Has there been any hardware configuration changes since this was working until now? I have also sent yo...

Hi Channing,Thank you for your help. I purchased PC Doctor for Windows on 1 Nov 2015. I can't open the application without it crashing, but the install file is "PCDoctorToolbox_6554_49". When I do open it and it does not crash, it asks to be activated...

Hello SanfordL,I am sorry to hear that PC-Doctor is crashing upon launch. Do you happen to know what version of PC-Doctor you are using? Was this purchased separately or did it come pre-installed on the machine? Have you attempted to uninstall and rei...