Let your voice be heard.
PC-Doctor cares about what our customers, partners, and others think, and we are always searching for ways to better communicate with them. Please join our online community to make your voice heard and learn about PC-Doctor, diagnostics, technical and engineering subjects, and whatever interests you.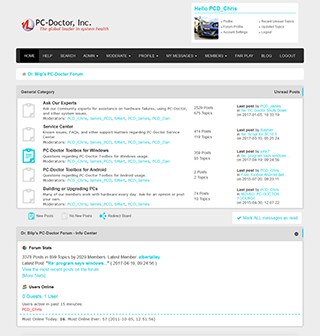 The makings of our community.
Get news and information about new and upcoming products
Fans of our Facebook page periodically receive special discounts, coupons, and promotions
We especially welcome involvement from our customers, and anyone in the diagnostics or PC industries.
Learn about Dr. Blip, PC-Doctor's chief promotions officer — a very unique and animated member of our executive team.
Promote your great ideas and pick up some new ones. This community will be a gathering place for leaders in our industry, and will be a vehicle for improving the PC experience for everyone.
Find out more about the inner workings of PC-Doctor.
Share in the fun we have working at the leading company in our industry.
Our blog feed, direct to you.
The repair industry is constantly changing, and technicians need the right support tools to stay up to date. PC-Doctor Service Center 9.5 now supports Macs and Android devices, allowing technicians to provide support to multiple platforms and test the latest system components with one program. This article highlights some of the new features available in […]

This time of year is about being thankful, and we want to show our appreciation for our customers by offering the best discounts of the year! We are having our largest Black Friday through Cyber Monday promotions ever! PC-Doctor understands the importance of being able to test multiple systems at a time, so we are […]

When Google started previewing Glass, I didn't make the A-list, i.e. those who got their Glass free, nor the B-list who got offered Glasses for an arm and a leg. But at least I was able to join the ranks of the Glass-wearing public when Tax Day also acted as the Glass Purchase Day, although […]
Keeping tabs on our forum conversations.
Ask Our Experts
I have 3 service center tools that currently have 9.0 system. i am trying to update to 9.5. i received the 9.5 download link from PC-Doctor but when i run it and insert the USB it says that the USB is noting be recognized. can someone please give me a...

Thank you for your reply.Yes I have a very old one. The problem is that it doesn't have the required connections for the motherboard or the graphics card.Noddan

These are the only testing methods that I am aware of for a power supply:Using a Voltmeter: This is usually only done by experienced techs (due to the high likelyhood of electrocution)Using a Power Supply Tester: Work...
---
Service Center
Hi Xander,By "offline" I'm assuming you mean Bootable Diagnostics (BD), so please let me know if I am mistaken.The automated option in BD is set to run off the automated.xml script (located in <USB>:\pcdoctor\sc_lin\scripts) and will automatically na...

I'm kicking myself because I've just found this information in the Quick Start guide.It's good to know ahead of time as my goal is to work out my tests to be interaction-less, just start-and-walk-away. With the Windows tests, I've batch-filed them to...

The primary use for the female connector on the network loopback is to test communication along a length of cable (like through a network port in the wall to the switch/router). Otherwise, it does make a great cable holder.... If you don't see the ...
---
PC-Doctor Toolbox for Windows
Hi Don, I just reset your download link with the latest version of PC-Doctor Toolbox for Windows, and you should have received an email containing all your information. I would also like to inform you that the updated version includes an auto update f...

How do I get the latest version? I have 6.0.6078.134.

As requested I have reset your download link and resent the product email containing your download link and product key. Please let me know if you have any other problems or if you are unable to find your download link.Thank you,Kris