Let your voice be heard.
PC-Doctor cares about what our customers, partners, and others think, and we are always searching for ways to better communicate with them. Please join our online community to make your voice heard and learn about PC-Doctor, diagnostics, technical and engineering subjects, and whatever interests you.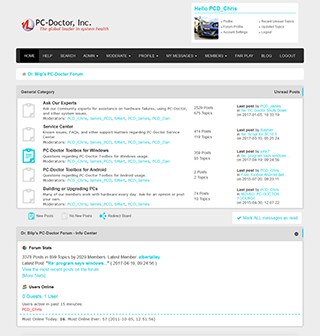 The makings of our community.
Get news and information about new and upcoming products
Fans of our Facebook page periodically receive special discounts, coupons, and promotions
We especially welcome involvement from our customers, and anyone in the diagnostics or PC industries.
Learn about Dr. Blip, PC-Doctor's chief promotions officer — a very unique and animated member of our executive team.
Promote your great ideas and pick up some new ones. This community will be a gathering place for leaders in our industry, and will be a vehicle for improving the PC experience for everyone.
Find out more about the inner workings of PC-Doctor.
Share in the fun we have working at the leading company in our industry.
Our blog feed, direct to you.
For better or (more likely) worse, healthcare.gov is the most visible aspect of what seems to have become the white elephant of the 21st century, officially named the Patient Protection and Affordable Care Act, also known as PPACA, Obamacare and ACA. It certainly didn't help that healthcare.gov had massive performance issues from the very beginning. And while performance has improved over time, things still aren't really looking up, as "conversion" rates are very poor, actual payment for policies is not yet implemented, and there are significant concerns about the potential for (and some claimed actual) security failures in the site itself. But given that this is a software project, and that we're a software company that has made mistakes just like everyone else, what learning experiences can we draw from it? Continue reading...

Let's face it. Windows 8 and its refresh 8.1 have failed to reinvigorate the PC space. Not only are few users moving away from other touch-based platforms, but Microsoft has also alienated a large number of existing Windows users by making the OS less friendly to those who like their mouse and keyboard as the primary human-to-computer interfaces. Here are a few thing Microsoft could do to fix Windows 8. Continue reading...

From time to time every great nation finds itself with difficult issues to resolve. In the past few months the United States has been confronted with the previously unacknowledged expansive data collection by the National Security Agency (NSA) that is characterized by some as excessive and in violation of the Constitution, and by others as necessary to combat the evils of this world. Continue reading...
Keeping tabs on our forum conversations.
Ask Our Experts
Unfortunately we never determined exactly what the issue was for deane272, but if you are having a similar issue please feel free to respond to the questions I had asked previously.

Quote from: deane272 on June 09, 2013, 11:03:21 AMi have an hp6523 computer with peimar solar.your pc tools are on the computerfor the first time (i haven't made a driv...

Due to licensing limitations from Microsoft, we no longer provide PE versions of Service Center. In addition, the next version of Service Center has not launched yet, but you should receive a message instructing you on how to obtain the upgrade when it...
---
Service Center
Hi Jones60800,I told you that I would update this post once a UEFI solution was available. Service Center 9 now includes a new boot environment designed to allow testing on UEFI systems without the necessity of enabling legacy mode.See this post for ...

Hello Chris,Our sales team will be able to assist you. Please contact them at This email address is being protected from spambots. You need JavaScript enabled to view it. .Thanks!Chris

I'm eligible for an upgrade to 9 on my existing 8 drive, but would prefer a new USB device if possible.....can you let me know how/who to contact to get the Service Center 9 USB drive and find out the cost etc.? Thanks. Chris
---
PC-Doctor Toolbox for Windows
I apologize for the inconvenience, I have reset the lock on our software and you should be able to activate it again.However, please be aware that our software only allows installation on a single system at a time. The software also limits the number ...

Hi, I just wanted to let you know that I'm locked out and cannot not install my software. Coronado <email removed>Thankyou

Hi whitebeard,If I am not mistaken, you also submitted a support ticket regarding this issue. If so, then we will try and handle the issue you are having that way. If I am incorrect, and the support issue I am thinking of has nothing to do with you, t...