Let your voice be heard.
PC-Doctor cares about what our customers, partners, and others think, and we are always searching for ways to better communicate with them. Please join our online community to make your voice heard and learn about PC-Doctor, diagnostics, technical and engineering subjects, and whatever interests you.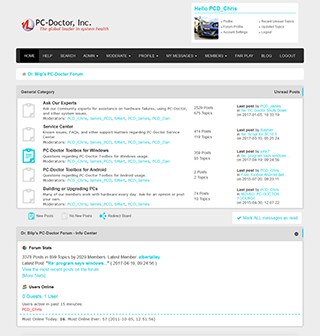 The makings of our community.
Get news and information about new and upcoming products
Fans of our Facebook page periodically receive special discounts, coupons, and promotions
We especially welcome involvement from our customers, and anyone in the diagnostics or PC industries.
Learn about Dr. Blip, PC-Doctor's chief promotions officer — a very unique and animated member of our executive team.
Promote your great ideas and pick up some new ones. This community will be a gathering place for leaders in our industry, and will be a vehicle for improving the PC experience for everyone.
Find out more about the inner workings of PC-Doctor.
Share in the fun we have working at the leading company in our industry.
Our blog feed, direct to you.
As a thank you to our customers, we'd like to show our appreciation by once again offering the best discounts of the year. The Black Friday Sale is back! Our largest Black Friday through Cyber Monday promotions have returned! PC-Doctor understands the importance of being able to test multiple systems at a time, so we […]

I presume most people want to donate their time and expertise to worthy causes. I do, too. But it's difficult to find blocks of time within a busy and ever-changing schedule, so for years I failed to do much volunteering. Then I discovered Tomnod. Tomnod is a website sponsored by DigitalGlobe to help others by […]

Three things are clear: Technology changes quickly, technicians need tools to troubleshoot the latest systems, and PC-Doctor is ready to meet those needs. Our newest release of Service Center supports Windows 10 all the way back to XP, as well as Android 5.1.1 and earlier. This major update provides support for newer technologies such as […]
Keeping tabs on our forum conversations.
Ask Our Experts
Hi Steve,Out of curiosity, do you experience the same issue if you were to run the test on this specific machine within the DOS diagnostics?Thanks,Channing

its a Dell E4310 laptop

Hi Steve,Thank you for the additional information. What is the model of laptop? I'd like to see if we have one here I can test with to see if I can reproduce the issue. Thanks,Channing
---
Service Center
As a thank you to our customers, we'd like to show our appreciation by once again offering the be...

Hello, Yes, we will be having a Black Friday sale. The specifics can be seen at the site below:http://www.pcdservicecenter.com/If you would like to see about taking advantage of these deals prior to Friday please feel free to reach out to our Sale...

Will there be a Black Friday or Cyber Monday deal on the PC-Doctor Service Center 10 Premier?
---
PC-Doctor Toolbox for Windows
As a thank you to our customers, we'd like to show our appreciation by once again offering the be...

Hello,Currently the latest version of Toolbox is 6554.49. You can ensure you are receiving updates to the software by opening PC-Doctor Toolbox and navigating to Settings>AdditionalOptions>Check for program updates and support messages. If this is ch...

What is the latest version of PC-Doctor Toolbox for Windows?