Let your voice be heard.
PC-Doctor cares about what our customers, partners, and others think, and we are always searching for ways to better communicate with them. Please join our online community to make your voice heard and learn about PC-Doctor, diagnostics, technical and engineering subjects, and whatever interests you.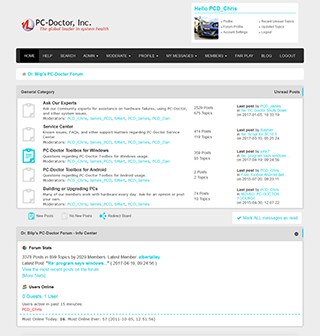 The makings of our community.
Get news and information about new and upcoming products
Fans of our Facebook page periodically receive special discounts, coupons, and promotions
We especially welcome involvement from our customers, and anyone in the diagnostics or PC industries.
Learn about Dr. Blip, PC-Doctor's chief promotions officer — a very unique and animated member of our executive team.
Promote your great ideas and pick up some new ones. This community will be a gathering place for leaders in our industry, and will be a vehicle for improving the PC experience for everyone.
Find out more about the inner workings of PC-Doctor.
Share in the fun we have working at the leading company in our industry.
Our blog feed, direct to you.
Keeping tabs on our forum conversations.
Ask Our Experts
Hi Ifyrilei,The short answer is this: Your motherboard BIOS is reporting to our software that it can support a total of 16Gb, but it is possible that it is reporting incorrectly. It is also possible that the documentation you have is out of date, or s...

I have an Acer Aspire M5910 with 4 slots for ram (only 3 used). The documentation for M5910 say that it only support a total of 8Gb(4x2Gb), but PC-Doctor tell me that max is 16 Gb (4x4Gb). Does PC-Doctor just assume this or does M5910 actually support ...

Since the tests are failing and you are having problems starting Windows, I feel comfortable saying that you are going to need to replace your Hard Drive. A drive failure can occur suddenly, so make sure that you back up all the important information w...
---
Service Center
Please submit a support ticket using our Service Center support form (http://www.pcdservicecenter.com/support.php). It sounds like you may also require an RMA.Please let me know if you have any questions. Thanks,Kris

Having same issue. I have 6 of these USB keys and only 1 will not detect or run. The lights flash light activity but it is not recognized on any system. It shows up but it is empty and will not activate the PC Doctor Program but the rest of them do.

Ok so their was to ways I tested to fix it. To make sure I never messed up my dongle I cloned it over to a mock dongle that was programmed with the same settings as the pc doctor dongle along with the same serial number to make sure everything matched....
---
PC-Doctor Toolbox for Windows
Kris_PCD; Thank you for the timely response! You must have beat me to enabling the notification on updates, lol. For the most part it really was a joy serving, till I started getting sick and receiving the wrong medicine.. Three years of many doctors v...

Quote from: singha on September 29, 2014, 05:01:10 AMHey my PC doctor has stopped working please help it keeps saying installed too many timesHey singha,I am going to respond shortly to the other post that you have made.http...

Sorry for any delay, please let us know if you have any other problems.Thanks,Kris