Let your voice be heard.
PC-Doctor cares about what our customers, partners, and others think, and we are always searching for ways to better communicate with them. Please join our online community to make your voice heard and learn about PC-Doctor, diagnostics, technical and engineering subjects, and whatever interests you.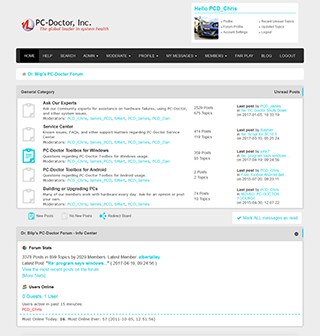 The makings of our community.
Get news and information about new and upcoming products
Fans of our Facebook page periodically receive special discounts, coupons, and promotions
We especially welcome involvement from our customers, and anyone in the diagnostics or PC industries.
Learn about Dr. Blip, PC-Doctor's chief promotions officer — a very unique and animated member of our executive team.
Promote your great ideas and pick up some new ones. This community will be a gathering place for leaders in our industry, and will be a vehicle for improving the PC experience for everyone.
Find out more about the inner workings of PC-Doctor.
Share in the fun we have working at the leading company in our industry.
Our blog feed, direct to you.
This time of year is about being thankful, and we want to show our appreciation for our customers by offering the best discounts of the year! We are having our largest Black Friday through Cyber Monday promotions ever! PC-Doctor understands the importance of being able to test multiple systems at a time, so we are […]

When Google started previewing Glass, I didn't make the A-list, i.e. those who got their Glass free, nor the B-list who got offered Glasses for an arm and a leg. But at least I was able to join the ranks of the Glass-wearing public when Tax Day also acted as the Glass Purchase Day, although […]

For better or (more likely) worse, healthcare.gov is the most visible aspect of what seems to have become the white elephant of the 21st century, officially named the Patient Protection and Affordable Care Act, also known as PPACA, Obamacare and ACA. It certainly didn't help that healthcare.gov had massive performance issues from the very beginning. […]
Keeping tabs on our forum conversations.
Ask Our Experts
That would seem like a valid course of action, but I would contact Dell to see what options they can offer. Since the camera is functioning (but out of focus) it's always possible that there may be a software or firmware update that could resolve the i...

My Dell Latitude 10 tablet gets a diagnostics failed for a Camera OV8830 Edge Detection Test with code WWC09-VYG.The touch screen has been erratic, mouse cursor tends to work. the camera on the back views and takes unfocused pictures and videos. The ...

Hi Eugene,I apologize for the inconvenience, and I am going to be sending you a PM with some additional information shortly to help you resolve the issue. However, I would like to ask that you please change your profile name. We would prefer that you...
---
Service Center
Hi CotsComp,It looks like your purchase was back in late 2010, unfortunately that means that your USB device is no longer under warranty and I cannot simply replace it. I would however recommend that you contact our sales team, and see what options th...

Hi gotu,I'm sorry to hear that you are having problems with your Multipurpose USB Device, but the description you have provided certainly sounds like it has failed. I will be sending you a PM shortly with instructions to return the USB device and get ...

I have previously read in the forums (although cannot find it again) that I am able to obtain a replacement MUD. I have version 7.5 and my MUD is currently being held together with duct tape since it decided to separate into two halves. It still works ...
---
PC-Doctor Toolbox for Windows
Hello, sorry, this is a translation, purchasing it as an end user, but when installed on two computers in my home, I lock the license, and I could not use the software even once. I read in the forum I see that I can only use it on a computer that give ...

Hello Laurent,I'm sorry if there was any confusion about the targeted audience of PC-Doctor Toolbox, however this product's primary purpose is as an end-user diagnostic and not as a commercial diagnostic tool. I have gone ahead and reset your license ...