Let your voice be heard.
PC-Doctor cares about what our customers, partners, and others think, and we are always searching for ways to better communicate with them. Please join our online community to make your voice heard and learn about PC-Doctor, diagnostics, technical and engineering subjects, and whatever interests you.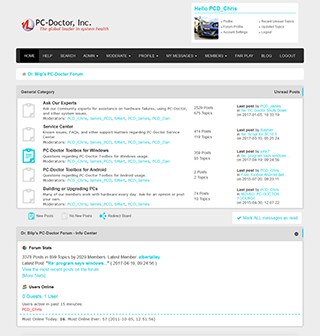 The makings of our community.
Get news and information about new and upcoming products
Fans of our Facebook page periodically receive special discounts, coupons, and promotions
We especially welcome involvement from our customers, and anyone in the diagnostics or PC industries.
Learn about Dr. Blip, PC-Doctor's chief promotions officer — a very unique and animated member of our executive team.
Promote your great ideas and pick up some new ones. This community will be a gathering place for leaders in our industry, and will be a vehicle for improving the PC experience for everyone.
Find out more about the inner workings of PC-Doctor.
Share in the fun we have working at the leading company in our industry.
Our blog feed, direct to you.
Keeping tabs on our forum conversations.
Ask Our Experts
Ever, dev mgr for a network card, perhaps no drv right => funny. Basically , find the models reciprocal otherwise quit? In term of no resolution time relinquish to OEM ? Or wait their repair dept. for new drv. The PC , any devices OEM been monitored ...

Regardless of warranty status, you should be able to find the necessary drivers on the manufacturers website. I unfortunately don't have any resources that I can recommend if you are unable to locate the drivers there.

Dear DoctorOh... NET 3.5.1 update to Pack 2 vista then install it followed by Toolbox.Update driver(s) for the new motherboard, PC-doctor has the links ever with SC pack ? Wanrantee expired OEM would not offer them ?BleuOisou
---
Service Center
Ok so their was to ways I tested to fix it. To make sure I never messed up my dongle I cloned it over to a mock dongle that was programmed with the same settings as the pc doctor dongle along with the same serial number to make sure everything matched....

I'm sorry to say that if you can't access the device from a known good computer, then it sounds like it may have failed and requires an RMA. I will be sending you a PM with additional instructions so that we can get the RMA process started.I apologize...

Testing with bootable diagnostics. Didn't add key until everything loaded. There is no boot from usb option in machine bios.Inserted tool into another computer and it is not seen by computer. Check on win7 and win vista machines.
---
PC-Doctor Toolbox for Windows
All good now spigeon4, let me know if you need anything else. As stated for others, "If this happens again you are welcome to request another reset, or if you would like you can always download the file and save it to a CD or a thumb drive to ensure t...

I also need to install my PC Doctor, can you please renew my download link?

Found it! Thanks