We just made keeping tabs on PC system health a lot easier,
and it's all about having the right tools.
For the first time, you can now buy the latest version of the world's leading hardware diagnostic and system information tool to help keep your computer running at its best! PC-Doctor Toolbox offers you what PC makers worldwide have relied on for years — our industry standard hardware diagnostics, advanced system information, system history, and more.
New PC-Doctor Toolbox Version 6.1! Instant PC Software Download
---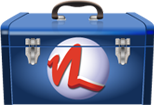 - Dashboard
- Hardware Diagnostics
- System Information
- System History
- Drive Space Manager
- New Blue Screen Troubleshooter
- Windows 8.1 Support
- And More!
Price $29.99
$19.99
---
---

Supports Windows XP Service Pack 3, Windows Vista, Windows 7, or Windows 8, 8.1.
For volume/bulk licensing, please contact This email address is being protected from spambots. You need JavaScript enabled to view it.
PC-Doctor Toolbox automatically monitors key hardware and software components, offering system information with detailed results. Advanced reporting keeps you well informed on system health, vastly improves troubleshooting, and reduces those time-consuming support calls.
PC-Doctor Toolbox was recently highlighted by Intel for use on Ultrabooks! Read the article
Download the PC-Doctor Toolbox product brochure to learn more.
View the list of tests available in Windows.
Need a computer repair technician? Search for one that uses PC-Doctor near you in our
Technician Locator
.

Features and Benefits
New Blue Screen Troubleshooter
More than 300 hardware tests for all major PC subsystems: storage, audio, graphics, networking, memory, CPU, systemboard, and peripherals
Detailed system information to give a clear picture of the current configuration
Comprehensive system history shows changes and events that have occurred
Status and settings for your backup and security solutions
Monitoring of Windows updates, system performance, and hardware health
Links to Windows tools and support resources
Supports Windows 8 and 8.1
Supports English, Dutch, French, German, Italian, Japanese, Portuguese, Simplified Chinese, Spanish, Traditional Chinese
Who can Benefit from PC-Doctor Toolbox?
Small Office/Home Office (SOHO) Worker
Your PC is essential to your business as a primary tool for your work. So having the proper tools to automatically maintain its efficiency and performance is important to work productivity.
Family on the go
Whether your PC investment is just for your digital life, or available for an entire family to share, PCs undergo rigorous stresses and use. Yet with PC-Doctor Toolbox, computers are well maintained to help them preserve performance and increase longevity.
Technicians and Advanced users
You are the type who likes to get down and dirty with the internals of your system. With PC-Doctor Toolbox you now have access to the same low level diagnostics and system information available to the PC Manufacturers for the past 20 years.
System Builders who are interested in reducing support costs
Your company builds PC's but the support costs are a burden. With PC-Doctor Toolbox end users are empowered to troubleshoot their own systems. If hardware issues are found repairs are faster and your customers go away happy!
---
click to enlarge

Dashboard

PC-Doctor Toolbox monitors key hardware and software components of a PC to keep it running at its best. When action is needed the Dashboard describes the problem and directs you with the recommended actions.

Toolbox alerts you when critical areas need attention.

Backup
Security
Storage
Network
Performance
Hardware
Updates
---
click to enlarge

Hardware Diagnostics

With PC-Doctor Toolbox you can now have the same world class hardware diagnostics that have been used by top PC manufacturers for years. Take the guesswork out of troubleshooting so you can get back to what really matters!

More than 300 hardware tests for all major PC subsystems
Quickly and accurately diagnose hardware issues
Easily run Quick, Full or Stress tests for a thorough check up, or target the device you want to test
Automatically monitor key hardware components to alert you before hardware issues become a problem!
---
click to enlarge

System Information

Knowledge is power! PC-Doctor Toolbox provides the most complete and easy-to-access System Information available. Understanding your system components is critical to keeping your system healthy.

In-depth knowledge of your system
Details about all PC components
See what is installed: Firewall, Startup Programs, Web Browsers, Virus scanners, and more…
Varying levels for the novice and expert user alike
---
click to enlarge

System History

Your system is crashing! You are constantly seeing the dreaded Blue Screen of Death! With Toolbox's System History you can see when your system started having issues, and what system changes occurred just before that point. Revert changes and get your system back to a healthy state!

Use System History to help understand when and why things go wrong
See software and hardware changes over the life of the system
View Critical Event history
Review historical diagnostic results
---
click to enlarge

Drive Space Manager

Wondering where all of your drive space has gone? PC-Doctor Toolbox Drive Space Manager helps you control shrinking disk space.

Organize and manage your folders and files more effectively
See graphically where your drive space has gone!
Sort files by type, size or name across an entire drive
Uninstall programs you no longer use
Delete duplicate files
---
System Requirements
Supports Windows XP Service Pack 3, Windows Vista, Windows 7, or Windows 8, 8.1.
---
Order your downloadable copy now!
For volume/bulk licensing, please contact us for more information or email This email address is being protected from spambots. You need JavaScript enabled to view it. .

---
Support
Already a PC-Doctor Toolbox customer and have questions or support issues, visit the FAQs or our Community Support Forums.
---
If you are a Computer Technician, you should explore our PC-Doctor Service Center product.