What can Network Factory do for your organization?
PC-Doctor® Network Factory™ converts system testing into a dynamic engine of information sharing. Networking the test and validation process expedites borderless sharing of system information across internal (manufacturing, engineering, supply chain, sales, service, and support) and external (customer, supplier, reseller, and IT service) organizations.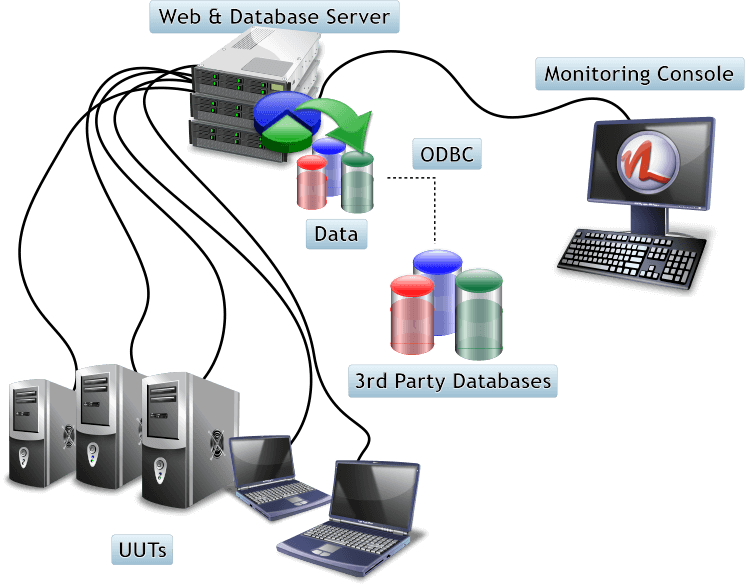 By combining world-class PC-Doctor diagnostics with common industry standards such as an SQL-compliant database, XML, and PHP, PC-Doctor Network Factory offers unmatched flexibility, scalability, sustainability and value.
Download the Network Factory product brochure to learn more.
Download the Network Factory technical fact sheet.
These are the main components of Network Factory.
Server Software
The server software provides for management and reporting of the testing process. It interacts with all UUTs (Units Under Test) and the results database to track the progress of testing and collect test results and system information.
SQL Compliant Database
The database stores all test results and system information for every UUT. The database can be used to provide an audit trail, and to perform trend analysis to increase productivity and reduce costs. Network Factory contains several pre-defined reports, which can be used to easily create custom reports. The SQL-compliant database can also be integrated into external applications or databases using standard ODBC connectivity.
Unit Under Test (UUT)
The UUT software consists of PC-Doctor hardware diagnostic test modules, system information modules, and modules that provide scripting capabilities and connectivity to the server.
Monitoring Console
The Monitoring Console is accessed via a web browser from any location connected to the server. It allows users to manage and track testing progress, as well as view test reports. The console supports multiple login privileges from tester, to management, to administrator. It includes features such as the Progress Monitor, providing real-time test progress information, Reports, providing standard and custom reports containing test results and detailed system information. Additional features include the Script Editor, User Management, Inventory and Parts setup and Database Administration.
Features and Benefits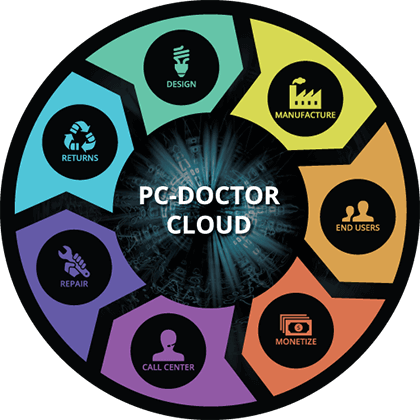 Field Replaceable Unit (FRU) Information on Component Failures
Speeds parts replacement and permits trend analysis down to the parts level
Single Monitoring Console Manages Multiple UUTs
Improved process efficiency and visibility to testing process
Tests Multiple Components Simultaneously
Reduces overall test time and improves test thoroughness by increasing stress on each system
Fully Customizable Test Scripts and Reports
Maximum flexibility to meet changing testing and reporting requirements
Integrates External Applications and Test Routines
Middleware provides for integrating other tests and routines within a unified framework of testing
Diagnostic Scripts for UUTs on Multiple Platforms (Windows, Windows PE, Linux)
Maximizes test coverage and increases productivity
Drive Erase
Certified NIST compliant drive erase capability
XML-based Inputs and Outputs
Makes it easier to integrate PC-Doctor Network Factory with existing processes and leverages industry-standard compatibility for data exchange
Scalability
Agility to meet growing and changing business needs without additional investment
Inventory and Parts Feature
Provides the capability to compare system to a BOM or specific build specification
Direct System Information™
Provides accurate details about the hardware attached to each system

SQL-Compliant, Industry-Standard Database
Provides reliable and accessible data management — easily expandable to common back-end tools.

Web-based Monitoring Console
No software to install on monitoring stations. Easy to use, intuitive interface. Tests can be monitored from anywhere on the network.
Broad System Hardware Support
Works with a wide variety of system types from standard PCs, notebooks and tablets to servers, network appliances, and embedded devices

Open Database Connectivity (ODBC) Test Result Accessibility
Leverages existing enterprise-level database applications such as MySQL, Oracle, SAP, Informix, DB2, and SQL Server. Test results and system information data can be correlated throughout the enterprise — from incoming parts inspection to manufacturing, from technical support to service. This offers unparalleled visibility into the full system or device lifecycle.
Network Factory Server Screenshots
Progress Monitor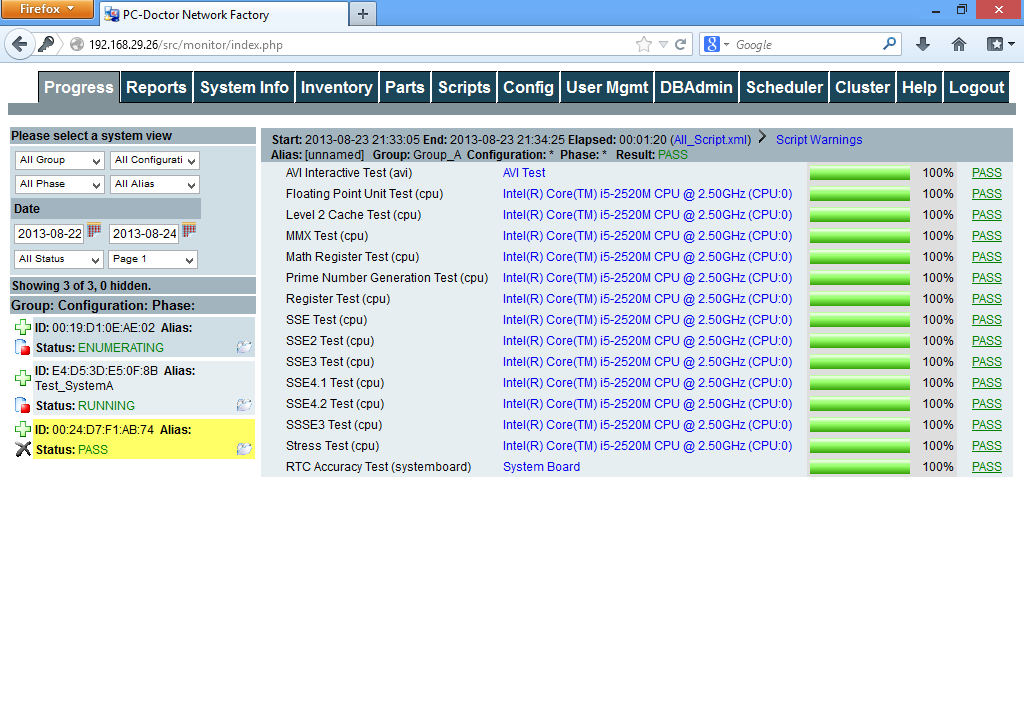 Reports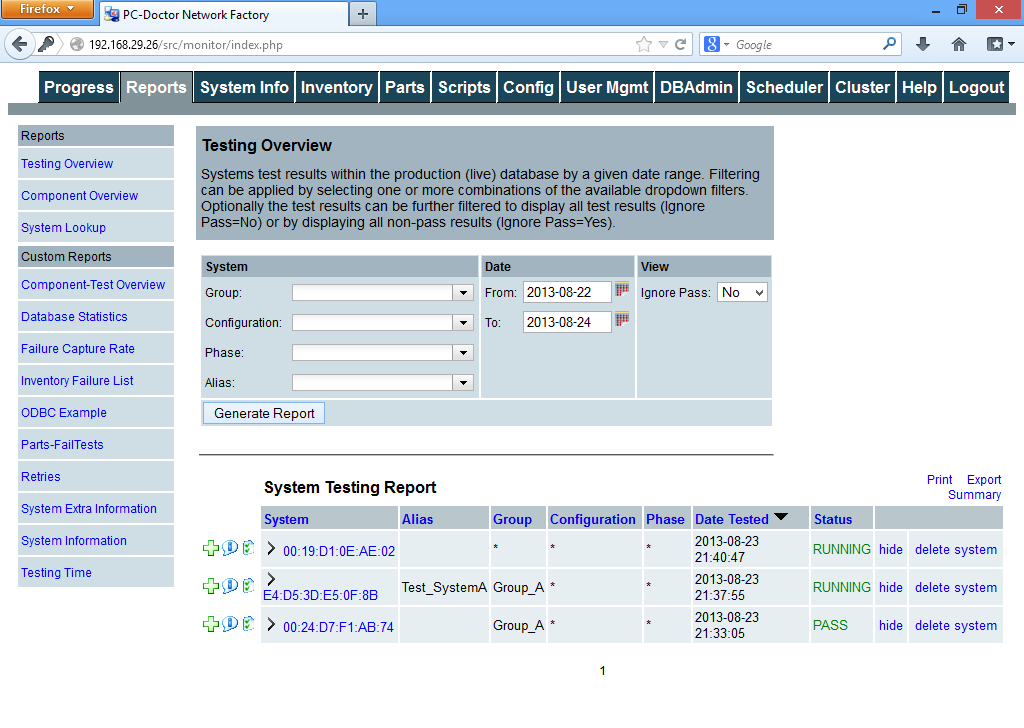 System Information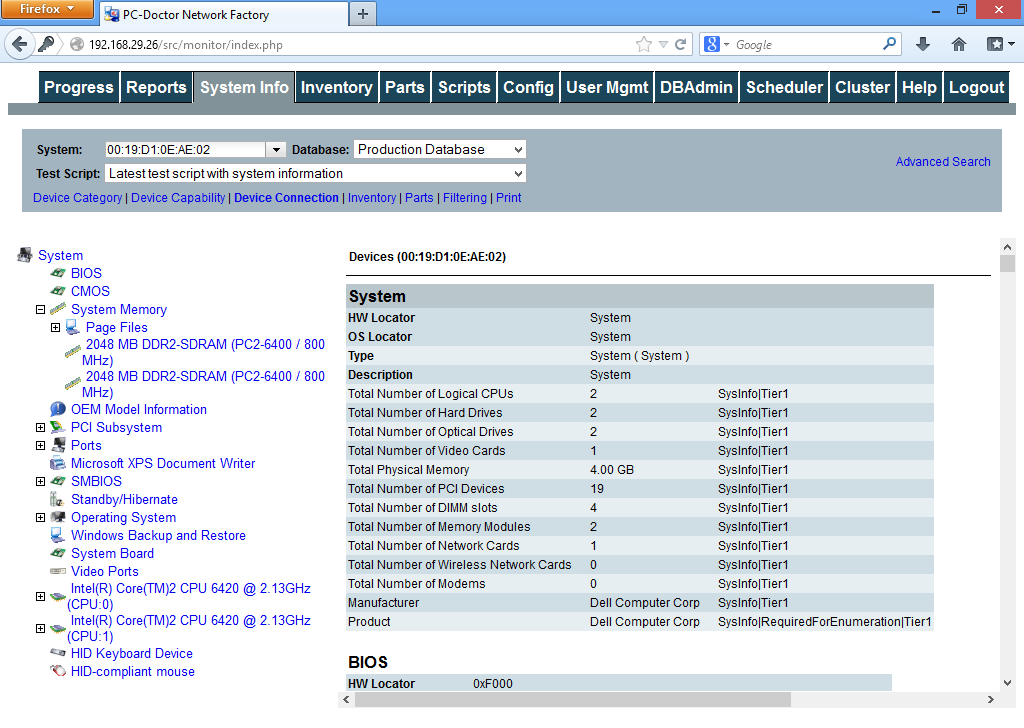 Inventory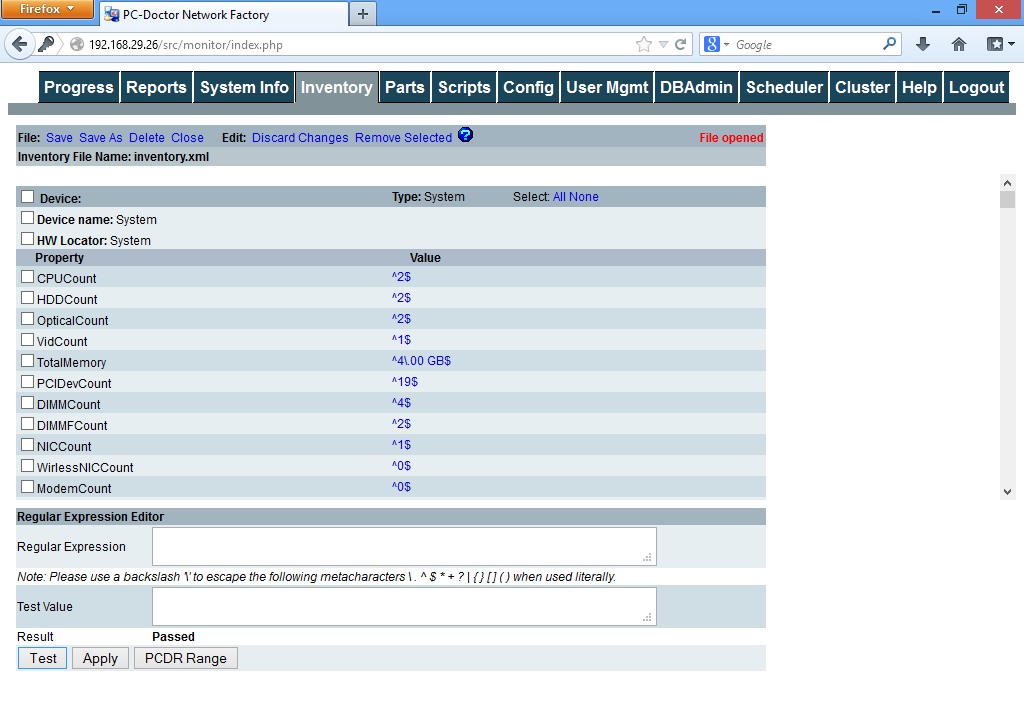 Scripts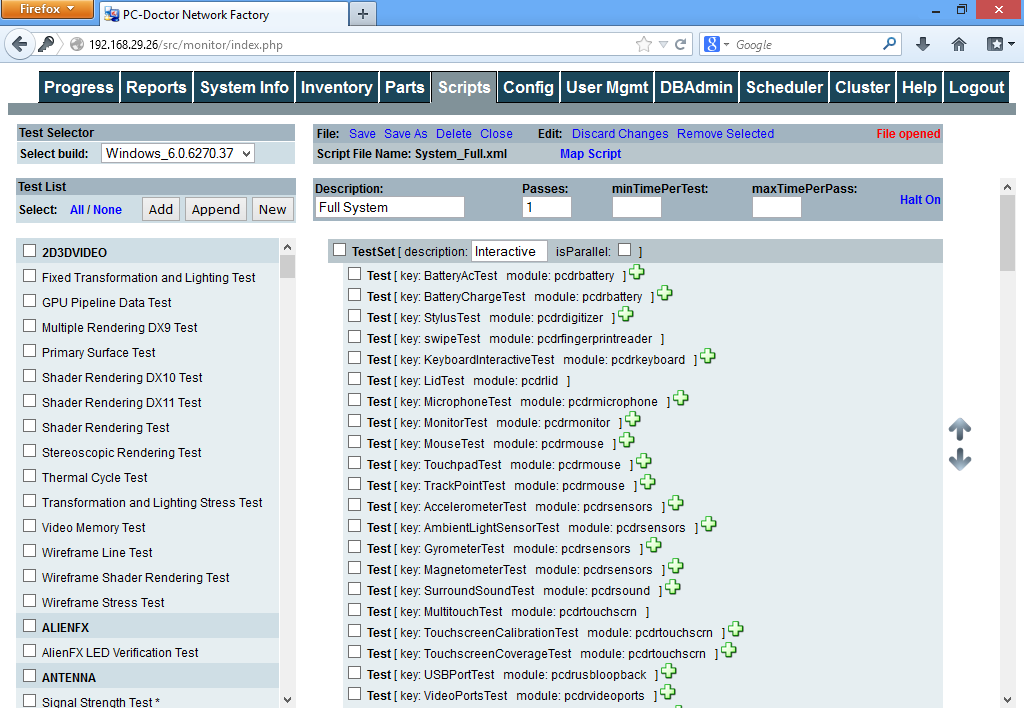 Cluster Management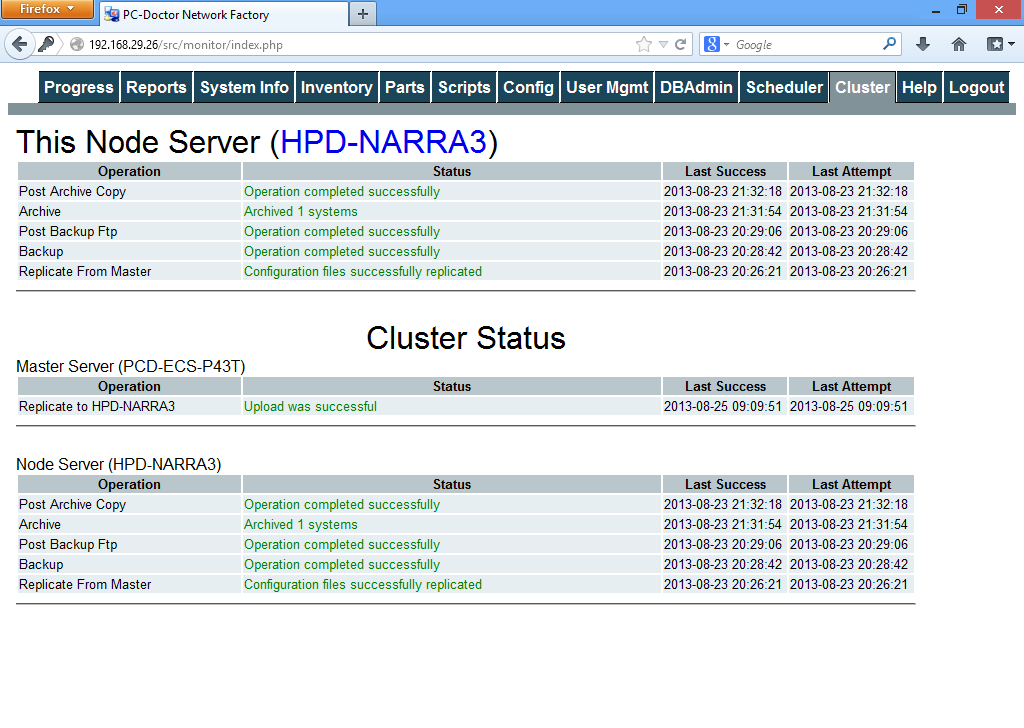 Network Factory Client Screenshots
Home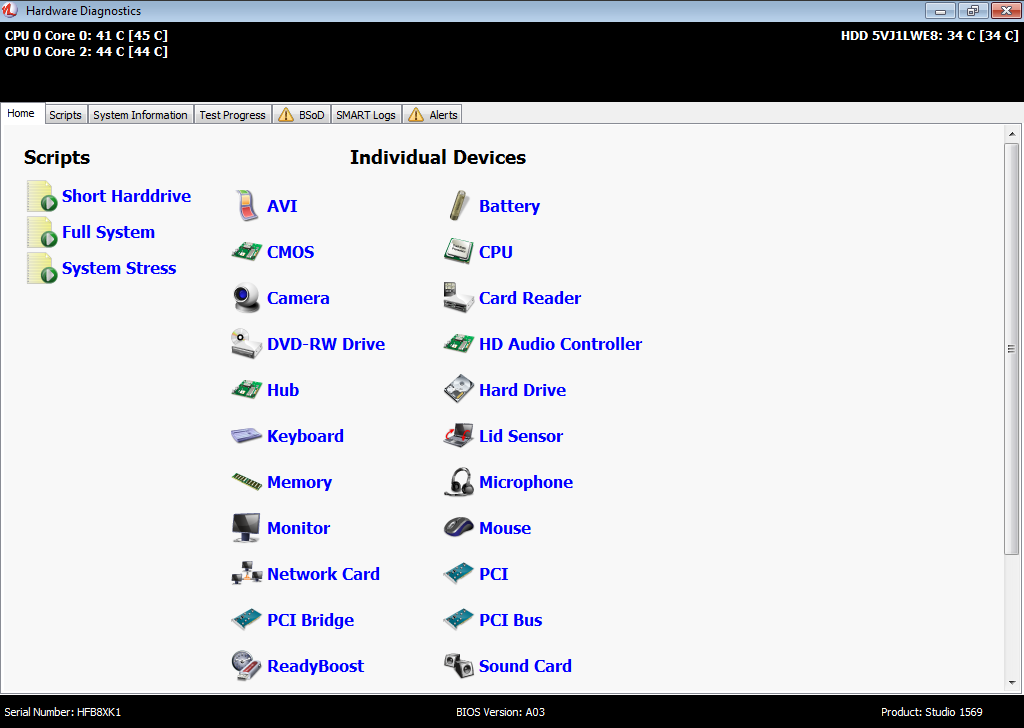 System Information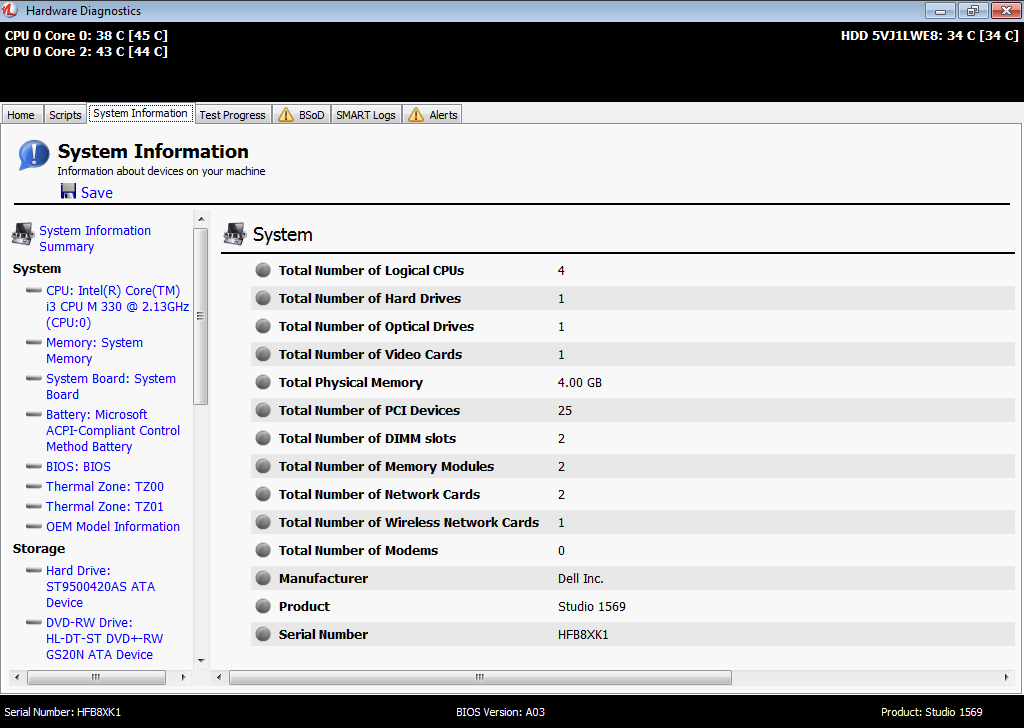 Test Progress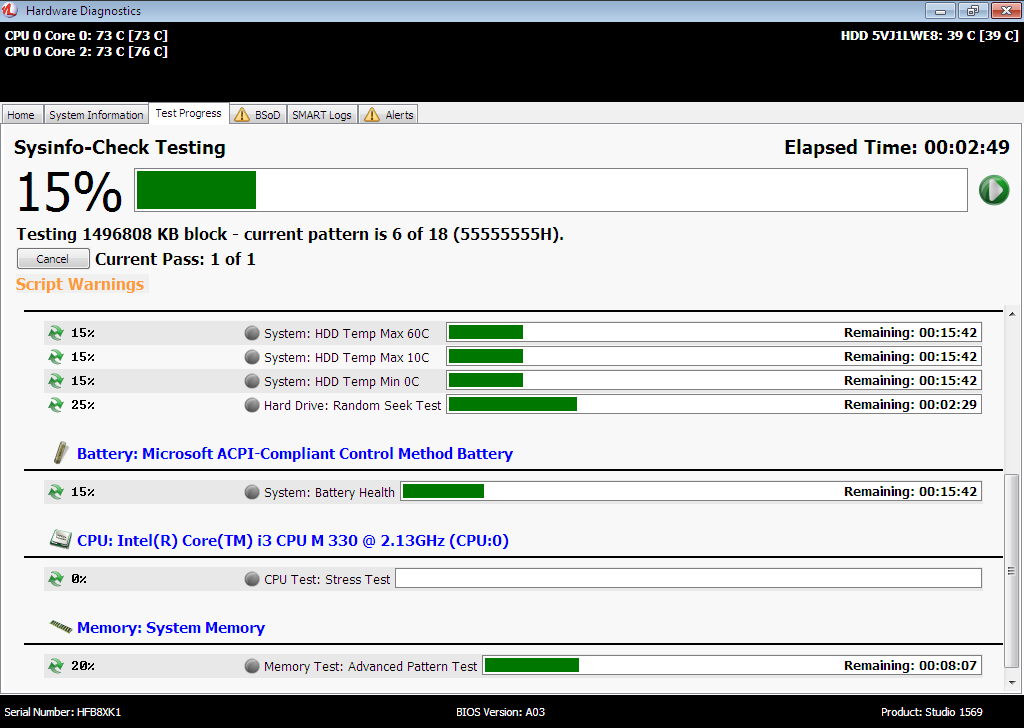 BSODs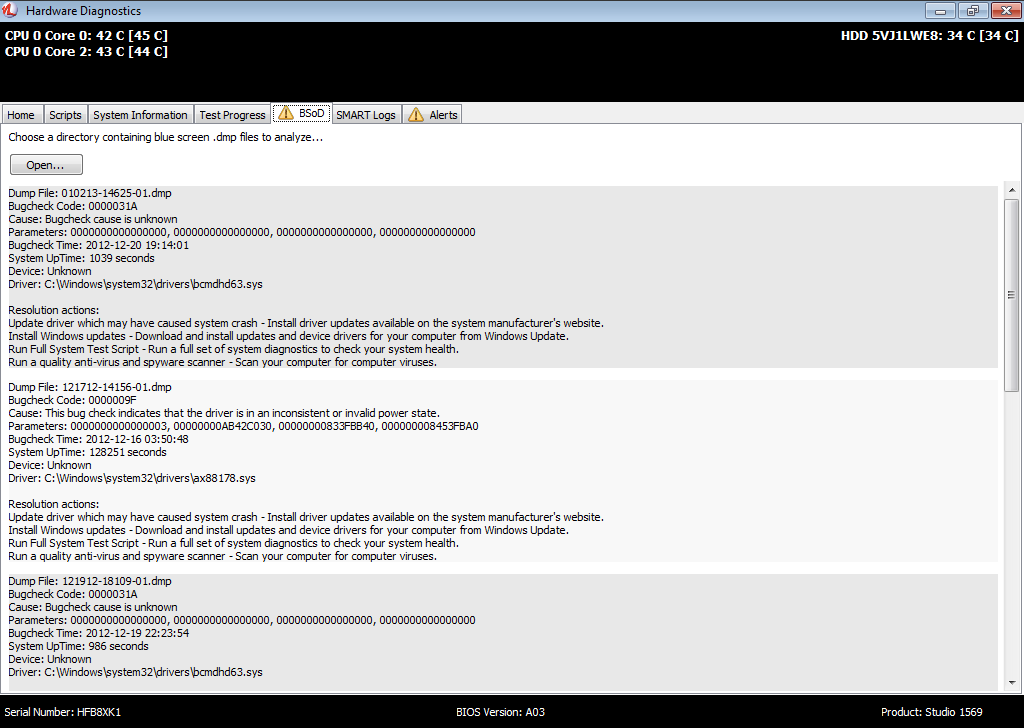 Alerts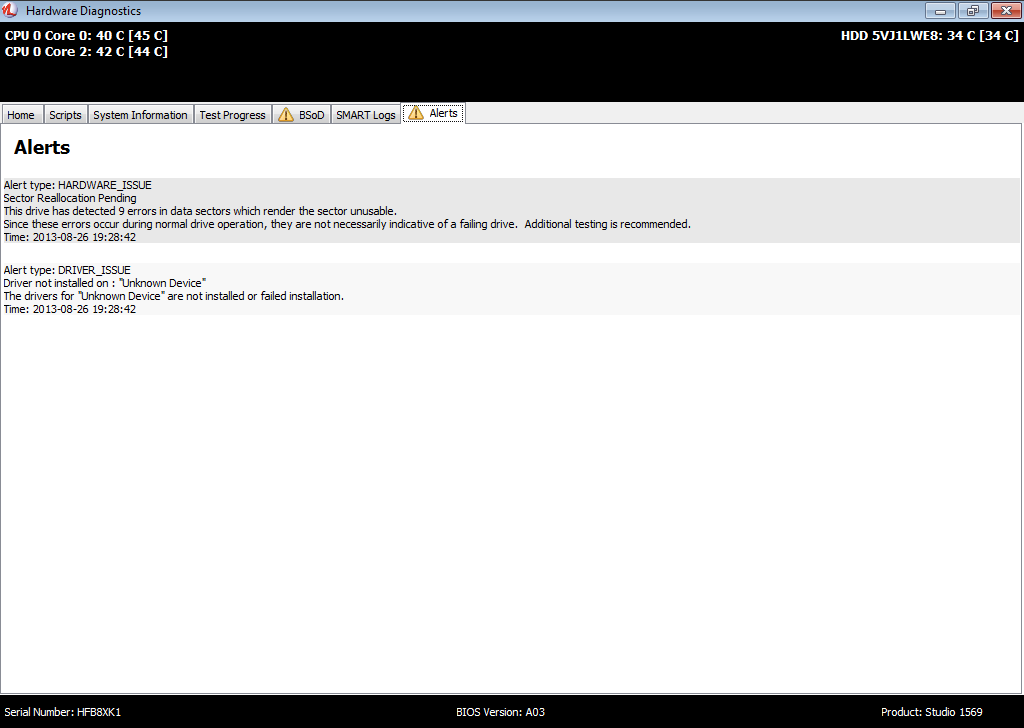 Key User Communities
PC technology-based manufacturers and Original Equipment Manufacturers (OEMs) from small component and subsystem makers to global multinationals
Name-brand PC product suppliers sourcing from OEMs and contract manufacturers
System integrators, system builders, and Value-Added Resellers (VARs)
IT service providers, service and support organizations
PC and PC-related device retailers and resellers
---
Product Deliverables
PC-Doctor test and diagnostic libraries
PC-Doctor test scripting and configuration tools
PC-Doctor Network Factory server-based application software
PC-Doctor Network Factory database application software
Web-based monitoring console user interface software
Customers looking for an automated standalone solution view PC-Doctor Factory.