Features and Benefits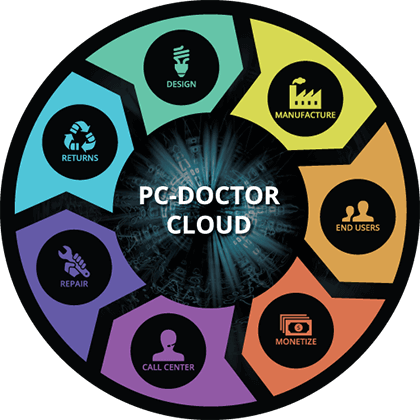 Field Replaceable Unit (FRU) Information on Component Failures
Speeds parts replacement and permits trend analysis down to the parts level
Single Monitoring Console Manages Multiple UUTs
Improved process efficiency and visibility to testing process
Tests Multiple Components Simultaneously
Reduces overall test time and improves test thoroughness by increasing stress on each system
Fully Customizable Test Scripts and Reports
Maximum flexibility to meet changing testing and reporting requirements
Integrates External Applications and Test Routines
Middleware provides for integrating other tests and routines within a unified framework of testing
Diagnostic Scripts for UUTs on Multiple Platforms (Windows, Windows PE, Linux)
Maximizes test coverage and increases productivity
Drive Erase
Certified NIST compliant drive erase capability
XML-based Inputs and Outputs
Makes it easier to integrate PC-Doctor Network Factory with existing processes and leverages industry-standard compatibility for data exchange
Scalability
Agility to meet growing and changing business needs without additional investment
Inventory and Parts Feature
Provides the capability to compare system to a BOM or specific build specification
Direct System Information™
Provides accurate details about the hardware attached to each system

SQL-Compliant, Industry-Standard Database
Provides reliable and accessible data management — easily expandable to common back-end tools.

Web-based Monitoring Console
No software to install on monitoring stations. Easy to use, intuitive interface. Tests can be monitored from anywhere on the network.
Broad System Hardware Support
Works with a wide variety of system types from standard PCs, notebooks and tablets to servers, network appliances, and embedded devices

Open Database Connectivity (ODBC) Test Result Accessibility
Leverages existing enterprise-level database applications such as MySQL, Oracle, SAP, Informix, DB2, and SQL Server. Test results and system information data can be correlated throughout the enterprise — from incoming parts inspection to manufacturing, from technical support to service. This offers unparalleled visibility into the full system or device lifecycle.