The Modular Core Technology (MCT™).
Key to PC-Doctor's success is a uniform nucleus of diagnostic tests and system information tools, called the Modular Core Technology (MCT™). This technology delivers diagnostic consistency and continuity across the design, manufacturing, support, and service phases of the lifecycle. With the addition of PC-Doctor's Cloud capabilities, experience efficient and timely data analytics for practical application in each phase.
The PC-Doctor technologies for end-to-end coverage.
Diagnostics
Best-in-class hardware diagnostics for PCs, servers, tablets, phones, medical devices, gaming consoles and more.
System Information
Detailed, accurate and actionable information.
Big Data
Ability to access and analyze failures, system information, application crashes, blue screens, user behavior, and other metrics.
Machine Learning
Proactive and predictive support and planning tools.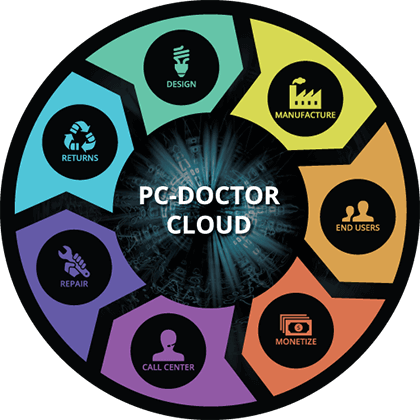 Design
Identify potential issues before release to manufacturing.
Manufacture
Prevent out-of-box failures while streamlining processes.
End Users
Reduce tech support calls by proactively identifying hardware issues, predicting problems before they occur and helping users solve problems on their own.
Monetize
Present contextual, targeted offers such as warranty upgrades or renewals and buy-to-fix.
Call Center
Decrease call times by quickly separating hardware and software issues and preventing unnecessary returns.
Repair
Reduce unnecessary parts replacement, streamline repair processes and prevent "repeats".
Returns
Certify parts and whole systems for reuse.