PC-Doctor for Windows
PC-Doctor for Windows delivers lower support costs by reducing the frequency of No Trouble Found (NTF) product returns and speeding resolution of customer-reported problems. Leading manufacturers have installed over 100 million copies of PC-Doctor for Windows on computer systems worldwide.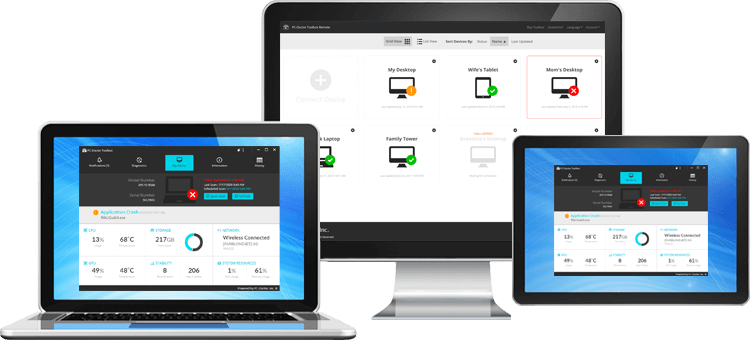 PC-Doctor for Windows deflects service calls by giving end users the tools they need to diagnose hardware problems. When service calls occur, PC-Doctor for Windows provides support technicians with powerful hardware diagnostics and system information tools to speed call resolution and increase first-call resolution rates.
View the list of tests available in Windows.
The key user communities that benefit from Preload.
PC Manufacturers
Original Equipment Manufacturers (OEMs)
Original Design Manufacturers (ODMs)
Customer Support and Field Service Organizations
System Builders and Value-Added Resellers (VARs)
System Integrators and IT Service Providers
Enterprise IT Departments
Features and Benefits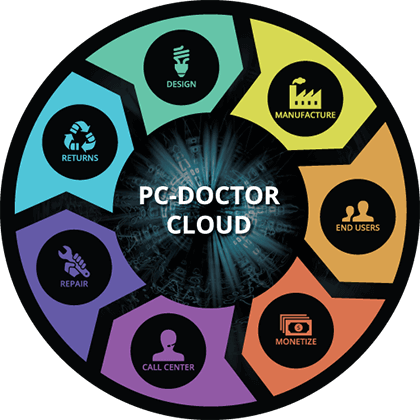 Reduces No Trouble Found (NTF) rates.
Increases customer satisfaction and brand value.
Deflects call center support calls.
Reduces support call duration.
Increases support first-call resolution rates.
Easy deployment.
Easily integrates support for emerging standards in hardware development.
Localized in 24 languages.
Small footprint on end user hard drives.
Custom company branding including company logos and support contact information
More than 200 diagnostic tests cover all major PC subsystems including CPU, memory, system board, storage, audio, graphics, networking, and peripherals I/O.
Direct System Information collects data from multiple sources to provide an accurate and thorough system view.
Customizable test scripts support specific system configurations and customer requirements.
Can be used to solve problems remotely.
Easy-to-use graphical interface can be customized to simplify the user experience and advance the PC manufacturers brand.
Common technology base with PC-Doctor Factory and PC-Doctor Service Center products for improved failure and trend analysis.
Value-added services available from PC-Doctor include OEM customer support and training, diagnostic library updates, application and development consulting.
Compatible with current versions of Microsoft Windows, including Windows Server 2012 R2 through Windows Server 2022, Windows 10 and Windows 11, plus Windows PE.
Alternative versions available for Linux and Android.

Windows PE and Bootable Diagnostics versions can test systems that fail to boot into Windows.
Product Deliverables
PC-Doctor for Windows software product master for pre-installation on end-user systems
Reproduction and distribution license agreement to install PC-Doctor for Windows on computer systems
Customizable on-line documentation content for installation with PC-Doctor for Windows
Multilingual versions available in 24 languages for major PC market regions
Optional consulting and professional services available to speed field delivery of PC-Doctor for Windows solutions
---
If you are a small OEM/system builder or an end-user, you may wish to explore our Toolbox product.