Let your voice be heard.
PC-Doctor cares about what our customers, partners, and others think, and we are always searching for ways to better communicate with them. Please join our online community to make your voice heard and learn about PC-Doctor, diagnostics, technical and engineering subjects, and whatever interests you.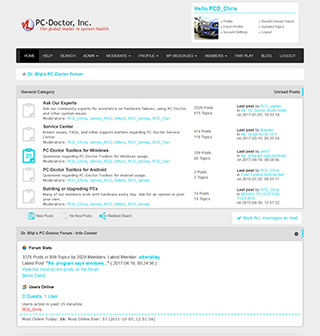 The makings of our community.
Get news and information about new and upcoming products
Fans of our Facebook page periodically receive special discounts, coupons, and promotions
We especially welcome involvement from our customers, and anyone in the diagnostics or PC industries.
Learn about Dr. Blip, PC-Doctor's chief promotions officer — a very unique and animated member of our executive team.
Promote your great ideas and pick up some new ones. This community will be a gathering place for leaders in our industry, and will be a vehicle for improving the PC experience for everyone.
Find out more about the inner workings of PC-Doctor.
Our blog feed, direct to you.
13 July 2020
Spring Into Action to SAVE BIG & WIN!

SPRINGSALE20 The flowers are blooming and the birds are chirping. #SpringIntoAction to save and win! Save 20% on Service Center, Service Center Remote, and Toolbox with coupon code: SPRINGSALE20 Shop now! Save 20% on Service Center Kits Shop now! Save 20% on Service Center Remote Plans Shop now! Save 20% on Toolbox, including tiered pricing […]

In this Time of Social Distancing, Save 20% & Start Testing Remotely!

During this time of social distancing, diagnosing computer issues can be challenging for computer technicians and PC repair shops—so stay in and start testing from anywhere in the world! Right now, you can take 20% off your first year of any Service Center Remote plan. INTHISTOGETHER20 To redeem your offer, copy the above coupon code […]

Announcing Service Center 13

Service Center 13 continues to advance as the world's number one hardware diagnostic toolkit—including new localized reports with cloud storage and support for Android sessions. This latest release also includes these notable new features: Localized reports in Finnish, Danish, Swedish, Norwegian, French and Portuguese Localized reports stored in the Service Center Remote cloud Ability to […]
Keeping tabs on our forum conversations.
Ask Our Experts
13 July 2020
Re: USB Tests cannot run

Hello Thomas,

The USB Status Test will only run when a USB device is connected to the USB port. Here are the details on what the status test do:

This test locates all USB controllers, hubs, and devices attached to the system and verifies that
the syste...

Re: USB Tests cannot run

I've tried to run the USB tests one at at time with a couple different devices plugged into the USB Ports.

2 Ports visible

#2 with the PC Doctor dongle plugged in (the CD boot under WinPE will only recognise it in this port.
#1 I've tried with the PC...

Re: USB Tests cannot run

Hello and thank you for reaching out to us with this question.

To clarify what the test actually does:
"This test locates all USB controllers, hubs, and devices attached to the system and verifies that
the system is detecting them correctly. It also v...
---
Service Center
13 July 2020
Re: Service Center 7.9 - Known Issues

I'm curious if there is a list of what was new/removed from 7.9 to 8.0. I have 8.0 bin & cue files on my computer that I never upgraded to and was hoping to find out ho worthwhile the upgrade might still be.

Thanks.


Re: Can directly update the SC 11 bought few months to SC 12 reminded published .

Hello,

We have responded to your support ticket to inform you that we have sent the DVDs for Service Center 12. We apologize for the inconvenience and hope the DVDs will allow you to complete your upgrade without any issues.

Thanks,

Meliton P.

Re: How do you use Service Center 10.5 Android Diagnostic

Please Dan for completive info:


1. Boot using your Service Center USB KEY on your PC.
2. Ensure your Android device is in Developer mode.
3. Select Android Diagnostics.

On the S6 Samsung , S8 none , there is Developer options under settings, is...
---
PC-Doctor Toolbox for Windows