Purpose
The purpose of this document is to provide information the various methods of Service Center installation within Windows.
Description
Upon inserting your Multipurpose USB Device (MUD) or Service Center DVD the main menu will appear presenting multiple installation methods. The menu can be seen below: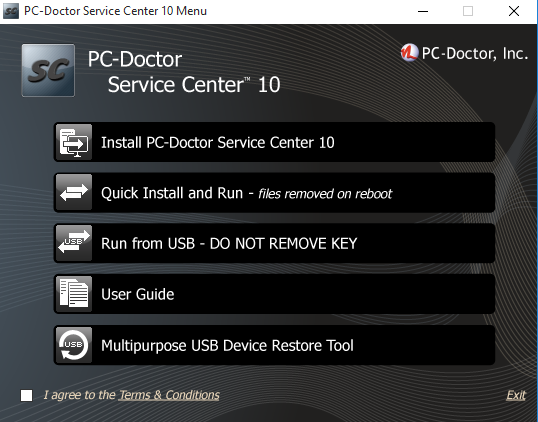 Note: If the optical drive's autorun feature disabled or the menu does not appear, you will need to browse to the Diagnostics CD and launch Setup.exe.
The various options are explained in further detail below:
Install PC-Doctor Service Center 10: Selecting this option will keep the software installed on the system. (Ex: Install on a workbench machine that is used to test individual components).
Quick Install and Run: This option will install the software to a temporary directory on the machine that is removed once the system has performed a reboot.
Run from DVD or Run from USB: Selecting this option will launch the software directly from the MUD or Diagnostics DVD. Using this option will limit the diagnostic capabilities of the optical drive or USB port tests based on the method used to launch Service Center (MUD or DVD).
Additional Information
The 'I agree to the Terms & Conditions' box will need to be selected prior to choosing your installation method. You may review the Terms & Conditions in detail by clicking on the 'Terms& Conditions' link.